Hey, Wolf Blitzer! Know what the situation is, in your Situation Room? Looks to me like the situation is that Andy Richter controls the universe. At least as far as "Celebrity Jeopardy" goes!
Tonight's episode of Jeopardy kicked off a year-long "Celebrity Jeopardy" contest in which twenty-seven former contestants vie for a one-million-dollar kitty, to be donated to the charity of their choice. The Tonight Show's Andy Richter went up against CNN's Wolf Blitzer and Desperate Housewives' Dana Delany.
How did this end up?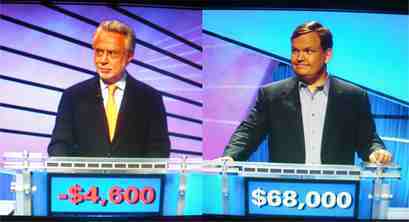 Youch. It was like Blitzer walked right out of those SNL sketches, where the "celebrities" are hapless, self-obsessed incompetents!
Of course, Richter had shot a preview for his Jeopardy appearance, which included footage of the dress rehearsal for the show that all but predicted tonight's outcome:
WATCH:
Richter's charity of choice is the St. Jude Childrens' Research Hospital. Seeing as how Jude is the patron saint of lost causes, perhaps Blitzer stands to benefit after all.
RELATED:
Filling Your Head With Lies And Your Pants With Hands [Pygmalion in a Blanket]
Andy Richter Beats Wolf Blitzer in Celebrity "Jeopardy!" [The Sling Blog]
[Would you like to follow me on Twitter? Because why not? Also, please send tips to tv@huffingtonpost.com -- learn more about our media monitoring project here.]