The state-by-state unemployment situation didn't change much from July to August, the government announced Friday morning. That means it's still very bad in places like Michigan, where the rate returned to 15.2 percent after dropping two-tenths of a percentage point in July. The next-worst states are Nevada (13.2 percent) and Rhode Island (12.8 percent).
Employment fell in 42 states, led by Texas, where employers cut 62,200 jobs. Michigan employers cut payrolls by 42,900, and those in Georgia shed 35,000. The most hiring happened in North Carolina (7,000), Montana (5,100), and West Virginia (2,800).
Here's a map from the Department of Labor's Bureau of Labor Statistics showing the full extent of the damage: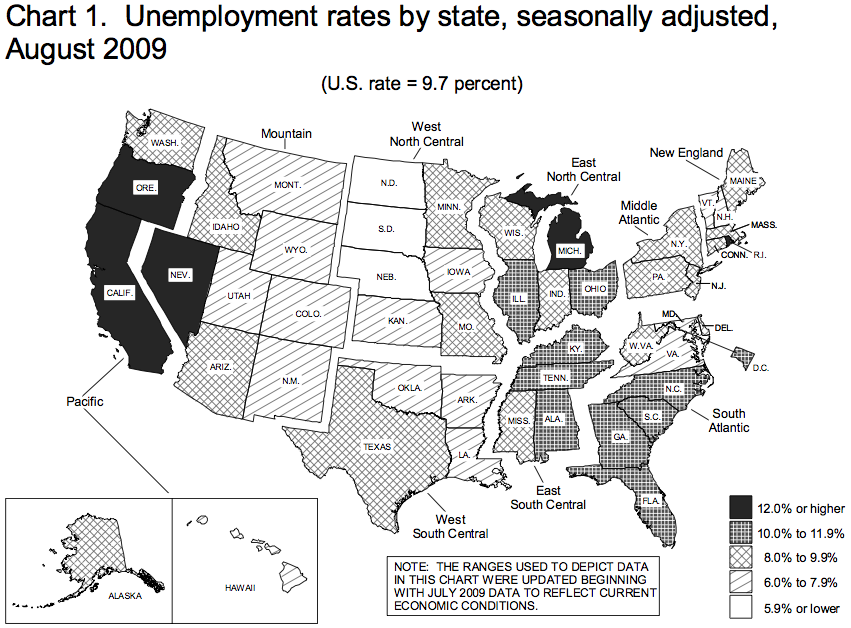 Click here to see a larger version of the map in a new window.
Click here for a PDF of the report from BLS.
Click here to read the Huffington Post's stories about regular people dealing with unemployment and its trappings.