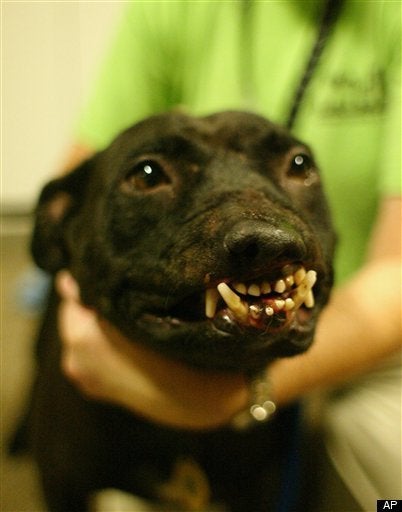 Cook County sheriffs raided a suburban day care Tuesday after learning it was being used as a front for what officers described as one of the most gruesome dogfighting operations they had ever seen.
Three people were arrested and nine dogs were found during the raid on a licensed home day care in Maywood, including one with a leg twisted backward, another whose limbs appeared to have been nearly torn off and a puppy that had had an eye ripped out. Ten children were being watched at the time, police said.
"Kids were playing on a swing set just 10 feet away from a vicious fighting dog and blood-stained floors," Sheriff Tom Dart said in a statement Wednesday. "The very equipment used to train these dogs to kill was being kept in the garage right behind the house. To be engaged in this sort of activity is disturbing enough, but to take a chance with anybody's children is reprehensible."
One of the three alleged ringleaders is related to the day care owner, who denied any involvement with the dogfighting, police said.
Animal Crime Unit officers described the scene at the day care and at two other homes they raided as among the most gruesome they have uncovered.
In the garage, police found an 18-month-old pit bull with three 4-week old puppies. They were all kept in a wire cage soaked in feces and urine, and all were emaciated. Police believe the puppies were already being used in fights as "bait dogs."
The rescued dogs are now at the Animal Welfare League in Chicago Ridge, where many underwent emergency surgery, director Linda Estrada told the SouthtownStar.
"One dog's leg will have to be amputated because it was broken and never treated," she said. "We took the collar off one dog and its neck was so swollen and infected, that it would have died within days."
Two of the men have been charged with felony dog-fighting. A third man, who kept the dogs at his home for $60 a month, is charged with being a felon in possession of an un-spayed or un-neutered dog.
There are 2 other men who are targets of the investigation, but who have not yet been charged or apprehended.
Photos of the scene and suspects (WARNING: GRAPHIC IMAGES)
(All images courtesy of Cook County Sheriff's Department)
UPDATE: The charge against Martez Anderson was upgraded by the Cook County State's Attorney's office Thursday, from a misdemeanor to a felony. After Anderson was in custody, authorities say they found video on his cell phone of a man burning an animal alive. All three men are being held on $500,000 bond.