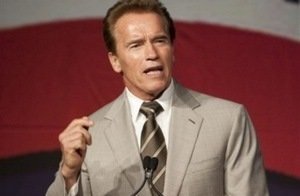 California Gov. Arnold Schwarzenegger has joined other prominent Republicans in supporting Democratic health care reform legislation.
"As Governor, I have made significant efforts to advance health reform in California," he said in a statement. "As the Obama Administration was launching the current debate on health care reform, I hosted a bipartisan forum in our state because I believe in the vital importance of this issue, and that it should be addressed through bipartisan cooperation."
Former Republican (now independent) New York City Mayor Michael Bloomberg also praised the plan on Monday. "The health reform proposal that Congress will shortly consider is shaping up to merit broad, bipartisan support, incorporating Republican ideas and earning deserved support from Republican leaders," he said in a statement. On the same, day, President George W. Bush's Health and Human Services Secretary Tommy Thompson said the Senate Finance Committee bill "moves us down the path of providing affordable, high-quality health care for all."