The New Republic hosted an interesting and generally newsworthy conference today at the Phoenix Park Hotel on the current status of the health care debate.
The event featured, among others, Representative Jim Cooper (D-Tenn) -- a key Blue Dog Democrat -- Sen. Ron Wyden (D-Ore.) -- one of the most thoughtful voices in the current debate -- and Nancy-Ann DeParle - the president's top adviser on health care related matters.
Sen. Olympia Snowe, the Maine Republican widely considered to be the linchpin for health care's passage in the Senate until yesterday, was not attending the conference.
But she was at the hotel -- holding a fundraiser.
At around the same time that the first panel on "Health Care Reform: Will It Work?" convened downstairs, Snowe was hosting a fundraiser upstairs. Who attended was not clear, nor did the senator's office immediately return a request for the guest list.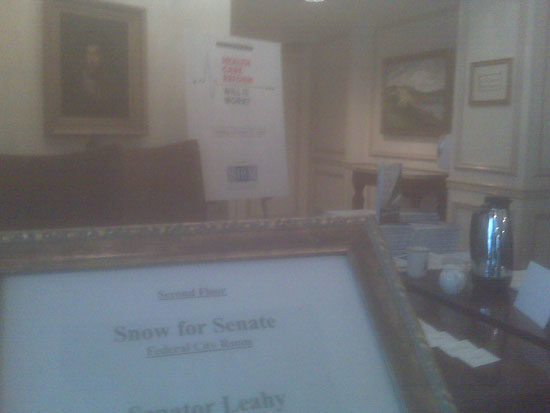 With Senate Majority Leader Harry Reid (D-Nev.) choosing to scrap a proposal that would have a public option triggered in by economic conditions -- in favor of a full public option that states could opt-out of -- Snowe's influence seems diminished. Still, her presence in the building (though not at the event itself) was noted, with humor, by attendees.
After Reid's announcement on Monday, Snowe said: "I am deeply disappointed with the Majority Leader's decision to include a public option as the focus of the legislation... I still believe that a fallback, safety net plan, to be triggered and available immediately in states where insurance companies fail to offer plans that meet the standards of affordability, could have been the road toward achieving a broader bipartisan consensus in the Senate."