Never mind its typical merchandise, the world's largest retailer has a new item on the shelf.
You can now purchase Walmart caskets, a development that could threaten funeral homes. Beginning at $999 for lower-end models, all 27 caskets in the Walmart online inventory cost less than $2,000, except the "Sienna Bronze Casket," which sells for $3,199. The caskets come from Star Legacy Funeral Network, Inc., of McHenry, Ill., and ship within 48 hours.
Blogs are having fun with this one. Several noted it's just in time for Halloween. One pointed out that this gives people a chance to live eternally with low prices. The topic is popping up on forums too.
Would you rest the soul of a loved one with a product purchased from Walmart?
PHOTOS: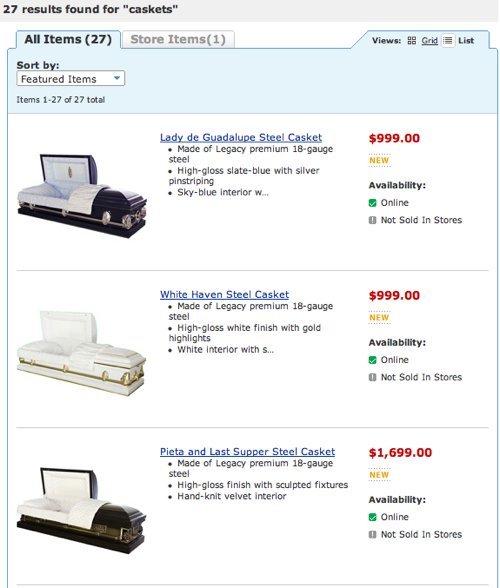 27 Walmart Caskets Are Up For Sale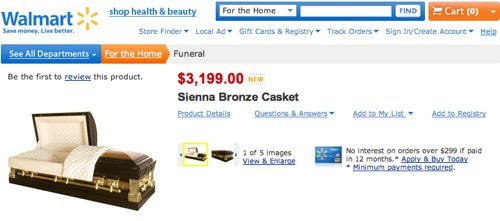 The Most Expensive Walmart Casket Is The Sienna Bronze Casket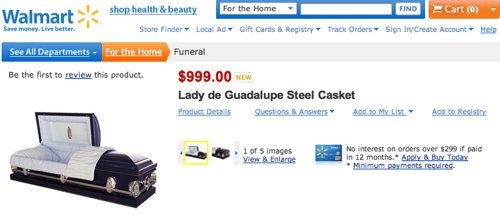 Walmart Caskets Can Be Purchased For As Low As $999
Read more at: http://www.huffingtonpost.com/2009/10/28/wal-mart-caskets-urns-off_n_337366.html