Republicans have edged ahead of Democrats in Gallup's latest generic congressional poll, suggesting a strong GOP showing if the 2010 House elections were held now.
Asked if they would choose the Republican or the Democratic candidate for their district if the congressional elections were held today, 48% chose the former; only 44% chose the latter.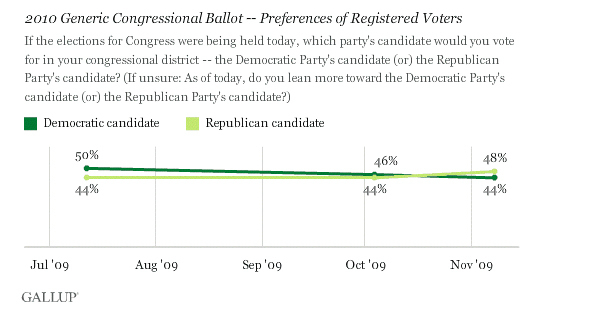 Up until recently, Republicans had been trailing Democrats by a few points in this poll. The main shift has come among independents. That group's preference for the Republican candidate in their districts has grown from a one-point advantage in July to a 22-point gap. (In the year before the 2008 elections, Democrats consistently held double-digit leads in the Gallup generic poll, although that lead narrowed in the months leading up to their sweeping election gains.
Independent voters also helped Republicans win in last Tuesday's gubernatorial elections, suggesting that those defeats were a bigger warning sign than most Democrats are willing to admit.
But these results don't paint a complete picture. Voters' identification with the Republican party is incredibly low. In mid-October, the average data compiled from dozens of surveys over more than a year showed Republican ID at 22.5 percent, Democratic ID at 33.7 percent and Independent ID at 35 percent. So evidently more independents are prepared, at this point, to vote like -- but not actually become -- Republicans.