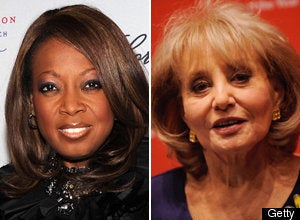 Star Jones has recommended that Tiger Woods sit down with her former "View" boss, Barbara Walters, for his first interview about the sex scandal rocking his marriage.
But it wasn't because she's a TV legend.
"My former boss might be a good choice," Jones said on "The Insider." "She wrote an entire book where she detailed her own affair and got paid a lot of money. She would be a very good choice. That would be like the pot calling the kettle black. I'm not sure she would be sympathetic, but she can't be as judgmental."
Oprah has reportedly also been wooing Woods for a sit-down. Popeater reported Thursday that Oprah called Tiger personally to offer support and invite him on her show.
Tune in to "The Insider" Friday night to hear Star Jones' comments on the show's panel.