Die-hard Star Trek fans can celebrate thanks to a new service that puts more geek in Tweets by allowing users to instantly translate Twitter posts into Klingon, the made-up language of an alien race from the Star Trek series.
TweetInKlingon, developed by Cryptic Studios in collaboration with Friend2Friend, will translate English into Klingon, then automatically add a hashtag the Trekkie Tweets that directs users to a URL where the Twitter posts can be converted back into English.
Here's a screenshot from the site: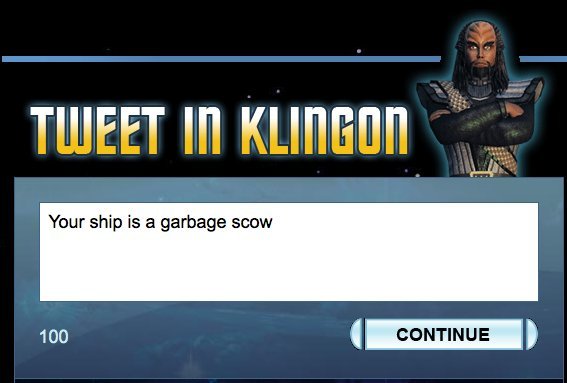 Mashable explains that the Klingon Tweets are part of a marketing campaign for the Star Trek Online multi-player online game coming out in February.
This is a very cool social media marketing campaign because it manages to capture the essence of the Star Trek brand and it also offers up a viral and instantly shareable way for people to promote Star Trek Online, without ever mentioning STO.
Try the service for yourself here!