A "tell-all" memoir from former John Edwards aide Andrew Young now has a cover image and a release date -- February 2010.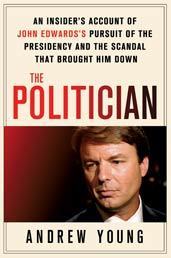 The underside of modern American politics -- raw ambition, manipulation, and deception -- are revealed in detail by Andrew Young's riveting account of a presidential hopeful's meteoric rise and scandalous fall. Like a non-fiction version of All the King's Men, The Politician offers a truly disturbing, even shocking perspective on the risks taken and tactics employed by a man determined to rule the most powerful nation on earth.
Unfortunately, the publisher seems to have temporarily confused the author with the Georgia politician and civil rights leader Andrew Young.
Once one of the former senator's closest friends, Young was paid to shelter his old boss's mistress and her baby at his own home. In January of 2008, he even released a statement saying that he had an affair with Rielle Hunter and was the father of her unborn child -- assuming that Edwards would step up and claim paternity after dropping out of the race, which he didn't.
And when the arrangement was revealed, Edwards cut off contact to his old friend. Young told editors that he saw himself as a victim of the Edwards family and that he needed to "set the record straight."
"He thought that he had offered the ultimate sacrifice and was left on the curb," said a friend in a Politico profile of Young.
In her memoir, Elizabeth Edwards described an "obsessed" and "overbearing" young volunteer who made himself indispensable. She and her husband were the victims, she said, guilty only of "being vulnerable to obsequiousness."