Lara Stone is featured in Vogue to illustrate a "return of curves" trend piece. Yes she has boobs, but at 5'10" and size 4 is hardly zaftig. And then there is her 24-inch waist.
"What they say is 'curvy,' but you know they mean fat," she told Vogue. And: "I can have an androgynous quality, except for the boobs."
Lara admits she has struggled with her weight, tried diet, exercise, even pills that made her heart race before turning to booze to escape.
"I was waking up shaking. I couldn't do anything until I had a drink," she said. "I hated it. I didn't like the person I became. Plus, I was looking like absolute shit, waking up with a swollen red face, pimples everywhere."
So she went to rehab, sobered up and hasn't had a drink in eight months. And now she speaks non-loathingly of her incredible body.
"People still tell me I'm fat, but when I look in the mirror, that's not what I see," she said.
You can read the whole Vogue story here.
Anna Wintour agrees that Lara is fat for a model, but in an inspirational sort of way.
"Vogue has always been supportive of healthy models and will continue to be so in the future," Wintour told Modelinia.com. "And I hope that Lara's success as a model, even though her image does not fit into the existing norm, will inspire the industry to rethink its current preferences."
Lara recently unseated Madonna as the face of Louis Vuitton. She also posed nude for the cover of Love magazine.
Here is one of the ads from the Spring 2010 campaign: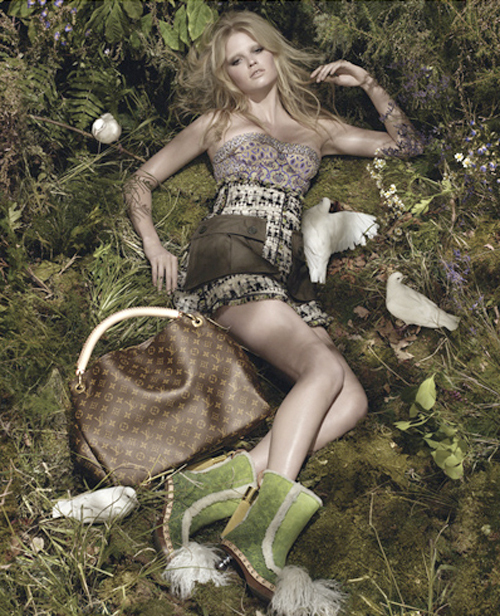 And here is an unretouched photo of Lara at a party in October: