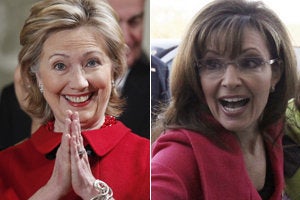 Despite former Alaska Governor Sarah Palin's whirlwind year, Secretary of State Hillary Clinton has edged her out for 2009's most admired woman, according to a recent USA Today/Gallup poll. Clinton got 16 percent of the vote, with Palin coming in second at 15 percent. Oprah Winfrey and Michelle Obama took third and fourth place respectively with 8% and 7%.
Palin shouldn't be disappointed with her close loss following a far from scandal-free year in the media spotlight. Since Hillary Clinton was first named the most admired woman in 1993, only first lady Laura Bush, in 2001, and Mother Teresa, in 1995 and 1996, have topped her.
In the men's poll, Barack Obama won overwhelmingly, taking 30% of the vote despite recent dips in his approval ratings. Former president George W. Bush finished in second place with 4%, topping Nelson Mandela's 3% vote. Glenn Beck and Pope Bendict XVI were neck and neck, both with 2 percent.