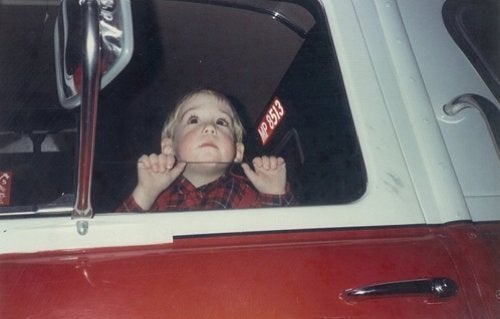 By Luke Mullins
Special to the Huffington Post
With as many as 1,700 students pursuing just 32 slots, the chances of winning a Rhodes Scholarship are impossibly remote. For Joey Graziano, a working-class kid from Long Island, the odds were even worse.
When his father staggered out of the World Trade Center minutes before its collapse killed every other firefighter in his unit, Joey's dreams seemed to perish as well. Instead of that baseball scholarship, his most pressing concern became his father's well-being. But after the college coaches stopped calling, an influential circle of lawyers was so impressed by Joey's grit that they engineered his admittance to Georgetown University even though the application deadline had passed. On the baseball field, Joey came back from one wincing injury after another -- like the line drive that shattered his jaw, smashed six teeth, and severed a nerve. And although he was the first-ever Graziano to attend college, Joey's 3.9 grade point average helped make him a candidate for the world's most prestigious fellowship.
Without the elite background of many applicants, Joey struggled to prepare for the Rhodes competition: pulling all-nighters in the library, visiting art museums, and completing the fellowship office's sometimes curious exercises. And despite numerous setbacks , when he arrived at the St. Regis Hotel in November of 2007, Joey was one of eleven finalists competing for two Rhodes Scholarships.
"Go get 'em Joe!" a teacher said.
Luke Mullins, an associate editor at U.S. News & World Report, met Joey in December of 2007 while working on another story. This account of Joey's life from September 10, 2001 to November of 2009 is based on nearly two years of reporting, including interviews with Joey, his family, and more than 40 other people Joey came in contact with along the way. Luke Mullins can be reached at lmullins@usnews.com.
Joey Graziano pushed through the revolving glass doors of New York's St. Regis Hotel on Friday Nov. 16, 2007. With his heels clicking on the marble floor, he walked past bellhops in white gloves to the elevator bank around the corner. As he waited for the doors to open, a silver-haired man turned to him and smiled.
"Excuse me," the man said. "Are you here for the Rhodes?"
The two shook hands and introduced themselves. "Pete Dawkins," the man said.
"The same Pete Dawkins who won the Heisman Trophy and the Rhodes Scholarship?" Joey asked.
Dawkins laughed. "The only one I know."
The two stepped into the elevator and headed up together.
Even then, as he marched into the competition's final stage, it was hard for Joey to believe he had made it this far. As the first Graziano to attend college, Joey lacked the privileged roots that many Rhodes Scholarship candidates enjoy. His dark blue suit -- the first he'd ever owned -- had wiped out his bank account. During his intense preparation for the weekend, he struggled to come across as the summa cum laude student he was, and not the "man-of-the-street type who seemed never to have read a book" that his fellowship advisor once said he appeared to be. The injuries he had sustained on the baseball field were healing well enough, but he still had to cut hamburgers into little pieces to eat them. And although several years had passed, the heartbreak that ripped through his family in one terrifying instant remained raw. But on that day, none of it mattered.
The last thing Joey told his father on Monday, September 10, 2001, was: "Fuck you. You never went to college, what do you know?" Joey then stormed upstairs and slammed the door behind him. He didn't leave his bedroom for the rest of the evening.
It wasn't like Joey to spit hurtful words at his father, a man he had idolized since he was old enough to have heroes. Even as a high school senior -- when most of his peers ducked any sort of interaction with their parents -- Joey still considered his father his best friend.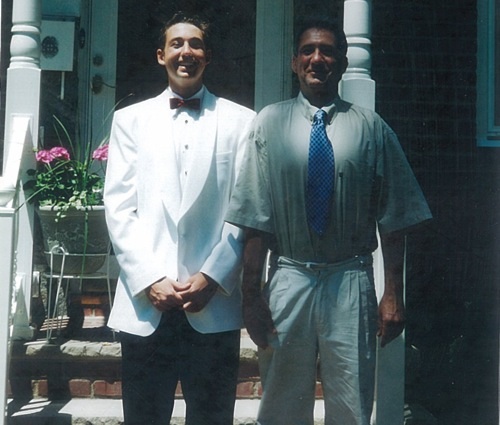 Joey with his father on the day of his high school graduation.
The argument had sprung from a phone message. The coach of a local college had called Joey, again, to gauge his interest in playing shortstop for him next year. But the tiny program wasn't what Joey had in mind when he threw baseballs against a cement wall in the freezing cold, or took dry cuts against the chain link fence outside his house. Joey was more interested in phone calls from the other, higher-profile universities--like West Virginia or Princeton-- that had taken an interest in him.
"I'm not calling him back," Joey announced.
"Yes you are," his father, Joe Sr., replied.
Things escalated from there.
After a couple hours in his room, Joey saw the argument differently. His father just wanted him to do the right thing, and Joey had acted like a 17-year-old jerk, he thought to himself. Recalling his remarks, he felt a trickle of guilt welling inside him. No big deal, Joey assured himself, he could apologize in the morning.
Joey and his father always had baseball. In Floral Park, N.Y. -- a town of brick homes and backyards just over the border from Queens in Nassau County, Long Island -- lacrosse was the big sport. So for Little League, Joey's parents took him into Queens to play with the children of firemen, plumbers, cops and construction workers. "I always joked to his father that Joey was the real coach," Patrick McNally, Joey's old Little League coach and the New York City Fire Department's former chief of operations, later recalled. "I was just there to drive the bus and pay for the post-game pizza."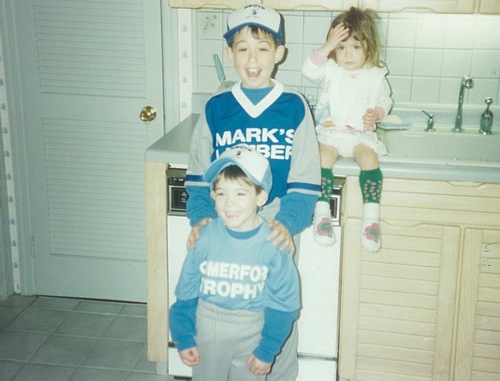 Joey with his brother and sister before a youth baseball game.
At Joe Sr.'s firehouse, Thursday softball games were serious business -- so important that oftentimes Joey was allowed to stay home from grammar school to tag along. The firemen looked tough and played hard, but each treated Joey like his own son: hitting him grounders between innings and tossing batting practice after games. "I didn't want to grow up to be some Major Leaguer," Joey said. "I wanted to grow up to be like these guys -- play like they played." And Joey's reverence for his father was unmatched. To the other firemen, Joe Sr. was a 5'11" guy with olive skin and droopy eyes, but to young Joey he was a giant. Every time his father took his position at third base, Joey trotted around home plate and plopped down next to him, maybe five feet into foul territory. When opposing players worried that the youngster might get drilled by a hard-hit ball, Joe Sr. insisted he'd protect him.
Joe Sr. was a third-generation Italian who didn't consider himself anything other than American. Although his gold chains and New York accent suggested toughness, Joe Sr. was a soft-spoken, gentle father who liked to cook dinner for the firehouse. When he first met a cute nurse named Dolores in 1980, Joe Sr. was a 26-year-old bar owner, a line of work he went into after stuffing away enough cash from his years laying railroad track. Dolores, then 22, was one of six children from an Irish Catholic family in Queens. And the hard-drinking establishment called Easy Street didn't seem like the kind of business to build a family on. So before she agreed to marry him, Dolores made Joe Sr. pledge to find a new job. He joined the New York City Fire Department in 1984, the same year Joey was born. Three more children would follow.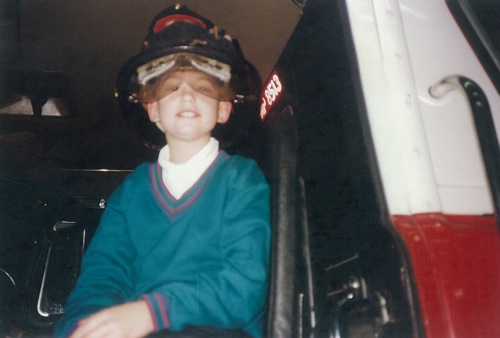 Joey sits in his father's fire truck with a fireman's helmet on.
Although only 5'5" and less than 120 pounds, Dolores Graziano is a howitzer of maternal discipline and working-class charm. "The only woman I've ever been afraid of," Joey said. Her kids would get everything they'd need to succeed, but she'd be damned if they weren't going to work for it. Joey spent his high school years breaking up fist fights at Halligan's Pub, one of two bars his father owned on the side. And when she finally agreed to have that swimming pool built out back, Dolores handed her kids some shovels and told them to start digging. Still, nothing was more important than school. And if Joey wanted to play ball, he had better bring home those marks.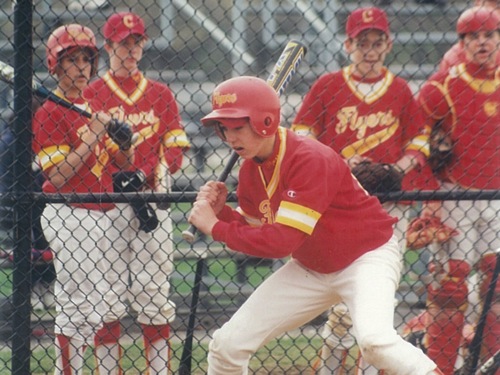 Joey takes a pitch during a high school game.
Schoolwork became nearly as important to Joey as baseball, and after his 8th grade year he left the public school system to attend Long Island's premier Catholic school, the all-boys Chaminade High School. Joey was an intense student; no matter how late he had to stay up to do it, he almost always got As. "He wasn't the smartest kid, but he wouldn't let himself get lower than a 99, 98 average," recalled Terence Malone, a high school classmate of Joey's. "He put more work in than anybody." Joey earned a 1380 on his SATs. And while the guys at the firehouse were thrilled when Joey grew into Chaminade's star shortstop -- and just ecstatic when college coaches started contacting him -- they never quite knew what to make of his classroom success. "His talents brought him into an elite academic environment that none of us has seen," McNally, Joey's Little League coach, recalled. "This isn't always the easiest way to gain respect among the boys. But Joey has always had everyone's respect."
It was third period, physics lab, when the president of the school came over the loud speaker to tell the students about an airplane hitting the World Trade Center. Chaminade did not allow cell phones on its grounds. Rumors got moving in a hurry. Is it true that the Army is sending up fighter jets to take out commercial airplanes? Soon, the school allowed students with relatives working at the World Trade Center to convene in the library. But Joey remained in class. Later that morning, he took his history test as scheduled.
It wasn't until noon that Joey saw the images of the Towers. Although stunned, he had no reason to think that this -- whatever it was -- could reach him directly. His father had been on the scene after the 1993 World Trade Center bombing and he'd made it back just fine.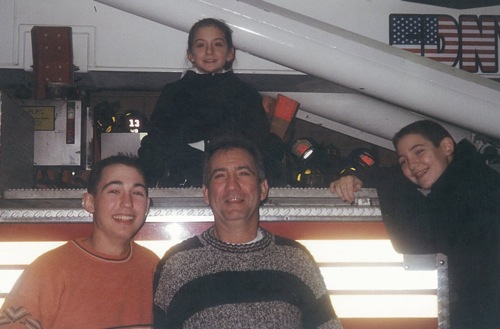 Joey with his father, brother and sister at his father's firehouse.
That afternoon, Joey got a ride home from his buddy Terence. Along the way, the two listened to radio reports of the day's still-unfolding tragedy. News stories of the frantic rescue efforts made Joey uneasy.
When they arrived at his street, Joey recognized the vehicles of his mother's three sisters parked outside. His heart stopped.
Terence watched Joey walk to the side entrance of the home, where his mother was waiting for him. After a quick exchange, Joey dropped his bookbag to the ground.
"We don't know where he is," he told Terence. "We know he went up."
Each year, as many as 1,700 gifted students pursue a Rhodes Scholarship, the world's oldest and most prestigious international fellowship. With only 32 slots, the odds of being selected are impossibly remote, but not quite zero. In choosing recipients, selection committees apply the principles of Cecil J. Rhodes, the colonial diamond magnate whose will established the fellowship program in 1902. Instead of "mere bookworms," the committees seek men -- and, as of 1976, women -- with the intellectual rigor and depth of character to fight "the world's fight." Committees evaluate students not only on their scholastic achievements, but on leadership, ambition, character, concern for the less fortunate, and athletic participation. "It's an inherently subjective judgment that our selectors make," said Elliot Gerson, the Rhodes Trust's American secretary. "But we are looking for people who are going to make a difference in the world."
In 1904, the first American Rhodes Scholars arrived at the University of Oxford for two years of study. Ever since then, recipients have gone on to become central figures in government, business, law, medicine, journalism, and the arts. Rhodes Scholars include President Bill Clinton, former senator and NBA all-star Bill Bradley, U.S. Ambassador to the United Nations Susan Rice, political television host George Stephanopoulos, Supreme Court Justice David Souter, and actor Kris Kristofferson. To win the fellowship, candidates must obtain the backing of their university, submit a paper application, and -- if selected as a finalist -- dazzle a handful of former recipients at a reception and a formal interview the next day.
The Rhodes selection committee had reserved several adjoining rooms on the second floor of the St. Regis Hotel. Inside, waiters in black bow ties and white dinner jackets carried wine glasses on silver trays. At 23, Joey had the strapping build and cherubic face of a college ballplayer, and his handsome smile and Italian skin projected youth. His shoulder still throbbed from his latest baseball injury. Thank God it was his left shoulder this time; Joey could still shake with his right hand.
In a room encircled by leather-bound books, Paul Dodyk, a retired partner at the law firm Cravath Swaine & Moore, welcomed the group. He congratulated the candidates on making it this far, and insisted that although most of them -- nine out of the eleven -- would leave without a fellowship, they each had remarkable futures ahead of them. The eleven finalists had been plucked from 54 standout applications; just being in the room was quite an accomplishment.
The most successful people I know are not Rhodes Scholars, Dodyk told the group.
Dodyk then introduced the rest of the panel, the six men and two women who would probe every corner of the candidates' intellect, ambition, and character. Nicholas Kristof, The New York Times columnist, George David, the CEO of United Technologies Corp., Murray Biggs, a Yale theater professor, Dawkins, and four other heavyweights. All except one--David-- had won the fellowship themselves.
This certainly wasn't the kind of party Joey usually attended, but he was prepared nonetheless. His college fellowship office had thrown a mock reception -- with wine , a variety of cheeses, and an upscale guest list that included students and faculty -- designed to provide its scholarship applicants with the experience they needed to navigate such events.
Joey already knew the basics: look people straight in the eye and extend a firm, web-to-web handshake. But at the dress rehearsal, Joey learned graduate-level techniques: Introduce other candidates to the panelist you are talking to, it shows confidence. Take a drink, if you don't you'll seem cowardly. Standing on the balls of your feet makes you appear more interested in the person with whom you are speaking. Don't use all your best stuff, save some for the interview. Remember, each conversation is like a tennis match, serve your partner a question and then get ready to receive one. Don't waste your time chatting with other candidates, but make sure to speak with each member of the panel -- they're the ones making the decisions.
At the St. Regis, the hotel staff laid out a dinner spread of salmon, fillet mignon, and fancy deserts; the candidates and panelists filled their plates and continued chatting. Joey was surprised by how much the panelists knew about him -- some even quoted from his personal statement. As the evening drew to a close, Dodyk pulled names out of a polished bowl to determine the schedule for the next day's interviews. Joey got 11:30 a.m.
Joe Sr. would never be the same. The physical injuries were bad enough; five herniated disks in his neck, loss of feeling in three fingers, diminished lung capacity. But the psychological impact of watching nine good buddies -- best friends, brothers -- swallowed by molten steel, and knowing that but for a split second decision you'd be in there with them, was too much.
Joe Sr.'s fire station after Sept. 11.
Along with the rest of his unit, Joe Sr. had been evacuating people on the 21st floor of World Trade Center Tower One when he spotted another firefighter struggling to assist a heavyset man down the stairwell. Both men were exhausted, and their lethargic pace was clogging up the stairwell. Joe Sr. stepped in and took the other fireman's place, pulling the heavyset man's arm over his shoulder and guiding him down the 21 flights of stairs. Slowly, he lugged the man into the lobby and through an opened door to the outside. "I'll be right back in," Joe Sr. promised another fire fighter before exiting the Tower. The men marched towards the ambulances positioned nearby. They were about half a football field away from the building when a cloud of dust shoved them behind a parked car. Tower One had disappeared.
Of the ten firefighters of Engine 22, Ladder 13 that entered Tower One on Sept. 11, 2001, only one walked out. "They're all gone," sobbed Joe Sr. when he returned home early the next morning. Joey had never before seen his father cry.
During the dozens of funerals the family attended in the ensuing weeks, Joe Sr. tried to comfort the grieving widows of his best friends. The women were desperate to learn anything about the last moments of their husbands' lives. How did he look? What did he tell you? In the weeks that followed, Joey watched his father turned inward, his eyes glazing and his attention wandering.
There was no time for baseball that fall. As the family's oldest child, Joey had new obligations -- picking up his sister from school, looking after his father. And since his parents had enough to deal with, Joey filled out his college applications by himself. The responsibilities diverted Joey's attention away from his schoolwork, but his teachers covered for him. Tests that Joey knew he wasn't prepared for still came back with A marks. But there was no such sympathy in baseball. The longer he stayed off the field, the more his skills atrophied. By late fall, the calls from college coaches had stopped.
For Joe Sr., the idea that his hardships would keep Joey from his childhood dream of playing college baseball filled him with guilt. By November, he was scouring sports magazine ads for showcase camps, where high school ballplayers take the field for college recruiters. Eventually, he spotted a showcase run by Headfirst baseball, a private youth-sports organization based in Washington, D.C. Although the camp was already booked solid, after Joe Sr. explained why he hadn't called sooner, Headfirst agreed to make an exception.
The event was held on the immaculate spring training grounds of the Florida Marlins and the St. Louis Cardinals in December 2001. By 8 a.m., the field was jammed with 200 high school ballplayers, each eager to impress the 20 college recruiters -- representing Yale, Harvard, University of Virginia, Notre Dame, and others -- sitting in plastic folding chairs around the diamonds. Before taking the field, Joey was handed a white t-shirt with the number 169 etched onto the back.
In a scrum of 200 teenagers wearing identical outfits, it was difficult to stand out, especially for a 5'9", 155-lbs. kid without Big League speed or power. But Joey was out of options. It didn't matter that he hadn't picked up a baseball since Sept. 10, that his feet were heavy and his bat sluggish. His chance to impress the scouts was now.
Desperate, Joey got right to work: tossing his body in front of ground balls, sprinting out pop ups, and rattling the dugout fence with encouragement for his teammates. Although Joey's day at the plate was disappointing, his energy and enthusiasm were impressive. "Undersized and out-muscled, he moved around the field in a flurry of dust, chatter, and confidence," Headfirst Director Brendan Sullivan would later recall. "My eyes, and the eyes of many others, were immediately drawn to him." When the weekend came to a close, another camp staffer approached Joey. "You are the hardest working kid I have ever seen at any of these camps," the coach said.
Joey finished the weekend feeling whipped but encouraged. Maybe he hadn't hit the big home run, but he couldn't imagine working any harder. Was it enough to get a college recruiter on the phone? He could only hope so. On the car ride to the airport, Joey passed out from exhaustion.
In the months that followed, Joey waited to hear from the college coaches. Meanwhile, he wrote a heartfelt note to the Headfirst coaching staff expressing his gratitude for allowing him to participate.
Then, in February, the phone finally rang.
"Do you think Joey might be interested in coming down to Washington, D.C. for the summer?" Headfirst director Sullivan asked Joe Sr. Impressed with Joey's hustle and moved by his family's experience on Sept. 11, Sullivan had called to invite him to play on a summer team for high school students.
Although it was five months after the attacks, it remained impossible for Joey to escape Sept. 11. Friends inquired regularly about his father. The children of victims wandered his high school hallways. And God knows you couldn't turn on the TV without seeing those towers. So with his parent's blessing, Joey accepted the invitation.
Between baseball, looking in on his father, and getting ready for graduation, the spring semester of Joey's senior year roared by. But unlike most of his classmates, Joey wasn't sure where he was headed for college. Haverford College had been the only school to offer Joey financial assistance, so he sent in a deposit. He also reserved his spot at Davidson College, in North Carolina, just in case. And if he played well enough that summer, Joey thought, a new opportunity might present itself.
The Headfirst summer team was at a tournament in New Jersey when Joey joined them. The coaches were aware of Joey's hardships but knew nothing of his baseball ability. The team's starting shortstop, however, had missed the game to take the SATs, so they inserted Joey right into the lineup. "His impact on our team was immediate," said Headfirst coach David Baad. "There was absolutely nothing done half way, [Joey was] sprinting out every [hit] attacking every ground ball , taking aggressive swings, and making the game not just about himself but he was picking up his teammates."
As for Joey's batting, "He hit like his personality," said another coach. "He wasn't the guy who hit for the highest average, or the most power, but he always made things happen." Coaches were particularly impressed by Joey's fearless approach to defense. Rather than waiting for the baseball to reach him, Joey charged even the hardest hit ground balls with reckless courage. (To this day, coach Baad uses Joey as a model for defensive instruction.)
The summer helped Joey remember what life was like before Sept. 11, while reinvigorating his love of baseball. And with Joey leading the way, the Headfirst team came within a single out of making the National Amateur Baseball Federation's world series. "He was the guts of that team," Baad said.
But while most of his teammates were getting ready for freshman orientation, Joey still didn't know where he was headed in the fall. Although he was assured playing time at Haverford, Joey was reluctant to let go of his dream of playing Division I college baseball. And while he had reserved a spot at Davidson University -- a Division I school -- Joey didn't know if he could make the team.
As the calendar turned towards August, Joey was stuck.
Joey returned to the St. Regis Hotel at 9 a.m. A table of fresh fruit, pastries and coffee had been arranged in the same room where cocktails were served the night before. The candidates hardly touched a thing.
Joey sat down and flipped through a stack of note cards, studying an outline of the key themes of his candidacy -- his working-class roots, his intellectual fitness, and all those second chances he'd had. Tension gathered in his chest like it did before a big game. But after everything he had faced, Joey knew he could handle a 20-minute interview.
The candidates seemed just as impressive as the panelists: a West Point cadet studying chemical engineering, a Columbia University undergrad who had worked with refugees in Burma. Every half hour or so, a candidate would be called into an adjacent room -- and would return in various states of relief or angst. Many shared their notes with the others -- no one asked me anything about current events.
As more and more candidates completed their interviews, the tension in the room eased. Candidates began chatting about the upcoming presidential election, working together on The New York Times crossword puzzle, and playing cards. But Joey's time slot was one of the day's last. It was impossible to relax.
At 11:40 a.m., Joey was called in.
Joey was thrilled when the head baseball coach at Davidson College called to offer him a roster spot. Headfirst director Sullivan had reached out to a contact at Davidson, a small liberal arts school about 20 minutes outside of Charlotte, N.C., and insisted Joey could help the team. But despite the initial enthusiasm, things started to fall apart the moment Joey stepped onto campus
Joe Sr. hadn't even finished moving his son into the dorm when he learned his father -- Joey's grandfather -- had passed away. Then, late in Davidson's fall season, Joey dove for a ground ball and felt a searing pain in his right shoulder as he plowed into the dirt. The impact had broken a bone in his shoulder, while ripping through muscles and tendons.
Joey had surgery over Christmas break and began rehabilitation when he returned to Davidson for the spring semester. He awoke each day before 5 a.m. to catch a bus into Charlotte so he could visit his physical therapist and return in time for class. It was a lonely period. And soon, Joey began to wonder if moving all the way down to North Carolina wasn't a mistake.
Watching Joey play baseball had always been one of Joe Sr.'s great pleasures. And after the trauma of the past year, it seemed all the more important for his state of mind. But the nearly eleven-hour drive from New York was more grueling than Joey or his father anticipated. And with Joey now injured, there was no longer any reason to make the trip. Eventually, guilt set in. Joe Sr. had taken care of Joey all of his life. But now that he needed his son's help, Joey was gone. In the middle of the spring season, Joey told Davidson he would not be back for his sophomore year.
Once again, Joey didn't have a college. He decided to spend another summer with the Headfirst team, hoping a strong season could get some coaches interested. "This family needs some good news," his mother told him.
But in his second summer in Washington, D.C., Joey had baggage. His shoulder injury prevented him from throwing the baseball at all. And while he was healthy enough to swing the bat, Joey couldn't generate the force he needed to get hits. He soon found himself in a demoralizing slump -- and what college wants a designated hitter who can't hit?
Since he didn't have anywhere to live that summer, Headfirst director Sullivan asked the family of Robert Muse, a prominent lawyer in Washington, D.C., to take Joey in. As the summer marched on, Joey shared his frustrations with the Muse family. Robert Muse was impressed by Joey's academic performance in the face of his setbacks -- Joey got a 3.0 GPA in his first semester and a 3.5 in the second -- and thought highly of his decision to leave Davidson to be closer to his father. Muse resolved to pitch in.
Muse began contacting people who knew Joey and had the connections to help engineer a last-minute college transfer. He didn't have to look far: Brendan Sullivan, the Headfirst director, is the son of Brendan V. Sullivan Jr., one of the city's most powerful lawyers. And David Vladeck, the father of one of Joey's Headfirst teammates, was a professor at Georgetown law school.
Over July 4th weekend -- well past transfer application deadlines -- the three men met at Muse's house to establish a plan for getting Joey into the right college, and fast. They discussed universities that met Joey's criteria -- strong academics, a baseball team, and a reasonable proximity to New York. From there, they pinpointed schools where one of them knew somebody who might be willing to bend the rules. Georgetown quickly became their choice.
As a professor at Georgetown law, Vladeck was in the best position to make the pitch. He contacted Georgetown's dean of undergraduate admissions about a possible transfer.
You've got to be kidding me, the dean responded, according to Vladeck. The application period was closed. But if this was really an extreme case, the dean might be willing to listen.
Vladeck called the University of North Carolina's dean of undergraduate admissions, who was a friend, for pointers on the arguments an admissions officer would find most compelling. Vladeck then drafted a four-page letter urging the dean to make an exception for Joey.
"Joe is the young man every parent hopes his children will become," Vladeck wrote. "If you look at his academic record, Joe has succeeded by working harder than his peers. And the same is true with baseball." Vladeck also convinced the dean of admissions at Georgetown law to help as well.
In mid August, Joey spent a couple hours filling out a transfer application in Muse's law office. After Muse had looked it over, Joey hand-delivered it to Georgetown's admissions office. By the end of the week, Georgetown called. He was in.
Before classes had even started, Joey walked into the office of Rev. Ryan Maher, S.J., a Georgetown associate dean. It was Rev. Maher's practice to meet with transfers at the start of each new term to go through transcripts and determine which credits would carry over. But in his meeting with Joey, Rev. Maher had an additional objective.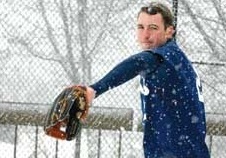 Joey playing catch in the snow at Georgetown.
He knew that a number of influential figures had put their reputations on the line to see that he was admitted to Georgetown.
"You have no idea how many people stuck their necks out for you," Rev. Maher told Joey. "Don't screw this up."
It was a message Joey understood. He was humbled that his well-connected patrons -- men with no direct stake in his well being -- would wager their reputations on him. But it had also taken the selfless acts of many others to get Joey here. His father, who had worked 24-hour shifts at the firehouse and then come home to play catch. His mother, who had pulled 60-hour weeks at the hospital, but was never too tired to help with homework. Those nine firefighters killed on Sept. 11 weren't really Joey's family, but they threw him batting practice like he was a son. The thought of letting any of these people down was terrifying. To ensure his focus never wavered, Joe wrote out Rev. Maher's words -- "don't screw this up" -- and posted them on his computer.
Although his shoulder still wasn't well enough to throw a baseball, Joey's doctor was pleased with his progress. To further his recovery, the doctor suggested that Joey take part in informal team sports, like pickup basketball. So on his first day of classes, Joey headed down the Yates Field House, Georgetown's campus recreation center. He had only been on the basketball court for a few minutes when Joey collided with another player and landed hard on the floor. This time is was his left shoulder that exploded in pain. The campus medical staff confirmed another dislocation. The next day, Joey informed head baseball coach Pete Wilk that he would now be rehabbing both shoulders.
Just great, Joey thought. He hadn't even been at Georgetown a week and already he was letting people down. He started waking up at 6 am to meet with his physical therapist. Rehab began gingerly, with stretches and strength cord work. Soon, they moved to light weights.
Most injured college athletes perform only as many exercises as their trainer requires. "Joey was doing two to three times a day more than he was prescribed," Coach Wilk said. "And then he was throwing on his own just trying to strengthen his arm at all hours."
By the spring season, Joey felt as close to 100 percent as he had in quite a while. Although he didn't get into many games, he was one of only a few first-year players to make Georgetown's travel roster. But in a summer league game not long after finals, Joey reinjured his right shoulder sliding into a base. Dejected, he moved back home to New York to try and recover again. His days soon took on a regular beat. Mornings with the physical therapist, hit the gym on the way home, and then head to a nearby baseball field with his father each afternoon. There, Joe Sr. would hit Joey grounders off the infield dirt and throw pitches in the adjacent batting cage.
On the ball field, Joey and his father reconnected after so much time apart. "It ended up being a very special summer," Joey said.
Joey had packed on nearly 20 lbs. by the time he returned for his second year at Georgetown. Although he started fewer than half the team's games at third base, he hit .310 with one home run.
When he arrived at Georgetown for his junior year, Joey was confident he would make an even bigger impact. "This is the year I can really show them what kind of a player I am," he told himself.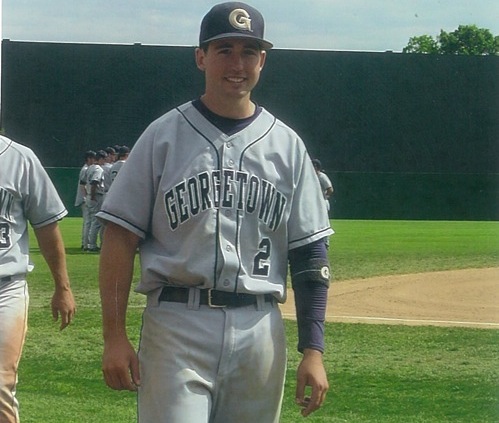 Joey on Georgetown's baseball team.
By then, Joey had already emerged as a standout in the classroom. In the 18 Georgetown classes he had completed, he earned 13 As, three A-s, and two B+s. Because its lengthy schedule requires players to miss so many classes, baseball is considered the most time-consuming sport for college student athletes. "His time management skills are impeccable," said Shelly Habel, who worked with Joey at Georgetown's student athlete resource center. Even though student athletes were permitted to turn in assignments late when they missed classes for games, Joey always submitted his work days beforehand.
Joey also had to sidestep social distractions. Georgetown's campus is blocks from M Street's vibrant bar-going scene. And by his third year, he had amassed a large group of friends. But Joey knew he owed his best to the men who had gotten him to Georgetown. He remained in the library on many of the Saturday nights his friends spent partying.
Professor Lynn Ross first came across Joey's name when she was looking over the scores of an exam in her U.S. Political Systems class. Because she had about 100 students in the class, Ross didn't get to know many of her students by name. But she was surprised to learn that one student had received 100 percent on the test, the only perfect score she had ever handed out at Georgetown. "I sort of noticed him after that," she said.
Over the course of the semester, Ross became as impressed with Joey's intellect as his integrity. "He was one of those students where if I asked a question, he wasn't the first to raise his hand," she said. "But if he sensed silence in the room -- if there was a pregnant pause -- I could always count on Joe to raise his hand and save me."
Soon, Ross called on Joey for help. After one of the school's star basketball players failed an exam, Ross became concerned that he might not pass the class. So she approached Joey about becoming the basketball player's tutor, something she had never before asked a student to do. With Joey's help, the basketball player's grades improved and he went on to major in government. "Every time I would see [the basketball player] on campus he would stop me and talk to me and tell me how he was doing," Ross said. "And every time I saw him, I thought, 'you know, that's thanks to Joe Graziano.'"
Meanwhile, Joey earned a reputation as the baseball team's workhorse. "After practice he would take his baseballs and his glove up onto the roof and throw off a retaining wall, like a rebounding wall, and just work on form," said teammate Parker Brooks.
"He would go to the gym twice a day instead of once a day," said Sean Baumann, another teammate.
His approach to baseball made him a team leader. On long bus rides or after practice, players would pull him aside for advice on grades, girlfriends, life after college, whatever was chewing at them. "He never tried to compare stories," Brooks said. "You could go to him because it was a problem to you."
As his reputation as a counselor grew, some teammates began calling Joey "Pops."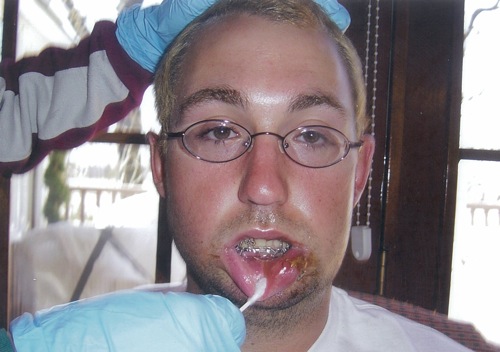 Joey with his jaw wired shut after being hit in the face with a baseball.
By Georgetown's first Big East home game that spring, Joey's season was finally turning around. Despite his sky-high expectations for 2006, Joey got just two hits in his first 25 at bats and soon found himself on the bench. But after getting a hit and a walk in his most recent two at bats, Coach Wilk put Joey back in the starting line up for the Notre Dame game in late March.
At 6'1" and around 200 lbs., Joey was in the best shape of his life. And with the shoulder injuries and batting slump behind him, he was pumped to get back on the field.
Several hours before the opening pitch, Joey jogged to the infield for warm ups. As Joey and a teammate stood at third base, one coach hit them ground balls while a second coach threw pitches to hitters at home plate. Baseballs were blasting in several directions at once.
When his teammate dropped a baseball, Joey bent over to pick it up. At that exact moment, a hitter smashed a ball down the third base line.
Opposing players gasped at the ball cut into Joey's face.
"We all stopped and cringed," said Nick Barnicle, a teammate and friend.
Joey picked up the baseball and pressed it against his jaw. Staggering off the field under his own power, Joey made a one-word request to his horrified trainer: "hospital."
As he spoke, Joey felt a snap in his jaw. God, this is serious.
"I've never seen so much blood," Barnicle said.
Georgetown continued batting practice while Joey was mounted onto a headboard and rushed by ambulance to nearby Suburban Hospital. Doctors whisked Joey into an observation room. Brain damage was the first concern, but neurological tests came up clear. Still, the force of the baseball had broken Joey's jaw in several places, split his lip, smashed six teeth, and severed a nerve. Surgery took six hours.
Joey had taken a line drive off his arm in pre-game warm ups two weeks earlier under nearly identical circumstances, and had been taken to Suburban Hospital for X-rays, where doctors discovered a hairline fracture. ("You're lucky it didn't hit you in the face," Joe Sr. told him.) When he arrived the second time, the hospital staff already had his file handy.
Joey's parents flew in from New York immediately. "His jaw was so displaced that it was on the other side of his face," his mother said.
After a day in the hospital, doctors gave Joey permission to return to New York. At the airport, Joey caught a glimpse of himself. His face was huge and droopy, saliva dripped from his chin. As they boarded the plane, a passenger asked Joey's mother if he was mentally challenged.
From his bedroom in New York, Joey emailed his professors about the incident and asked if they would allow him to finish his coursework remotely. They agreed. Prof. Ross was shocked to learn that Joey would continue to tutor the basketball player via email. Bedridden and sucking meals through a straw, Joey earned three As and an A- for the semester.
After seven weeks at home, doctors loosened his wires. A month and a half later, he got them off entirely. While the ordeal had snatched 50 lbs from his frame, the less visible damage was more profound. Joey was furious at his coaches for not putting a protective screen in front of third base after his initial injury. Even worse, he felt betrayed by his teammates, most of whom hadn't contacted him to see how he was recovering. "It seemed like he lost a little bit of his zest -- his love of life," Joe Sr. said. "There was a little bit of 'Can I do this?' in him."
Joey told his parents he wouldn't return to Georgetown in the fall. He only needed to write his thesis to graduate, and he could do that anywhere. But eventually, Joey decided to go back. He couldn't allow his final memory of Georgetown to be of him hobbling off that baseball field.
Joey began rehabilitation yet again. When he was strong enough, he started running again. Then lifting weights. "Not once a day -- like a normal person -- twice a day," his mother said. Next, he headed over to the ball field with his father. It took thousands of grounders for Joey to put his face in front of the baseball without flinching.
Since Joey hadn't been sure he was coming back to Georgetown, he didn't make arrangements to live with teammates like he had in the past. After he rejoined the team senior year, several players told Joey they would gladly have visited him had he been in Washington, D.C. But Joey continued to hold a grudge.
On Craigslist, Joey found a basement apartment not far from campus. Melinda Roth, who owned the property and lived upstairs, was a single mother of two. Her boys, ages 8 and 11, were baseball fanatics and quickly became enthralled with Joey, who made time to work on their swings and take them to Georgetown basketball games.
On a Friday night in late March, Roth heard muffled sobs coming from Joey's room in the basement. It was tough for Roth to hear. She knew how much Joey had been through already. Roth had first sensed that something was wrong when she saw another Georgetown player standing at third base during the game against Cincinnati University earlier that afternoon. Students told her that Joey had left the field in an ambulance after colliding with a base runner. His shoulder had been dislocated once more.
Doctors wanted him to have surgery, which would have kept him off the field for the rest of the year -- his last season in college. Joey had been playing baseball ever since he could walk, and he wasn't about to end his career this way. He turned down the operation, and put everything into his rehabilitation. One month later, when the pain still hadn't subsided, he figured the best way to get back on the field was to lie.
Gritting his teeth through strength tests, Joey convinced his physical therapist that his shoulder was just fine. Then, he and his trainer used ace bandages and athletic tape to strap his shoulder to his body. Worn under his uniform, the jerry-rigged sling made his shoulder less likely to pop out of place. Finally, he told his coach he was ready to suit up.
Coach Wilk had never seen a player bounce back from so much heartbreak. Joey definitely deserved a chance. But Coach Wilk worried that Joey could do further harm to himself if he returned too soon. After watching Joey take batting practice, he approached his senior third baseman.
Can you go? Coach Wilk asked.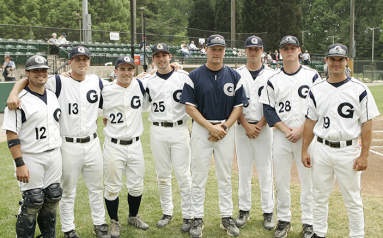 Joey alongside head coach Pete Wilk and teammates on Georgetown's senior day.

There were two outs when Joey stepped to the plate in the third inning. The sling and the Vicodin helped, but not enough. The pain was most blinding when Joey swung and missed, so he hoped to make this quick. During his first at bat, he swung at the first pitch and hit a grounder to shortstop.
It wasn't a good time to play hurt. Georgetown was on the road against the University of Connecticut in a match-up with playoff implications. UCONN's star pitcher was on the mound and a crowd of Major League scouts had turned out to watch him. Joey had to come up big. A poor day at the plate would convince Coach Wilk that he wasn't really healthy, landing him on the bench for the rest of the year.
The pitcher, a 6-foot-7-inch left hander, could hit top speeds of 88 miles per hour. Joey dug his cleats into the batter's box and settled into his stance.
When Joey swung and missed at the first pitch, the shoulder pain was so stabbing he had to step out of the batter's box and breath deeply until it relented.
On the next pitch, Joey hit a foul ball.
As the at-bat continued, a numbing pain seized Joey's neck. The prickly sensation slithered down his back until it reached his upper thigh. At the same time, pain sliced from his shoulder down to his finger tips. This at-bat needs to end.
When Joey connected with the baseball the next time, his entire left arm was heavy and numb. There was no pain, though, no feeling at all.
It was a bullet into left field,. "A no-doubter," Coach Wilk called it.
After the ball sailed over the fence, Joey trotted around the bases. He felt a sense of peace ease over him. No matter what happened from here on, he could walk away from baseball feeling content. There was nothing more to squeeze out of his ability.
After the game, Coach Wilk contacted Headfirst director Sullivan. "[Wilk] told me Joe was the toughest kid he had coached in his 20 years," Sullivan would later recall.
Georgetown played 13 more games that year and ended up with a 21 and 34 record. Joey finished the season hitting .345 in Big East conference play.
The Decision

The interview took place in a dark room. Eight panelists sat around a long, oval table of rich brown wood. Stacks of paper were everywhere. Joey took a seat at the head of the table.
"What was it like to play third base at Georgetown?" Pete Dawkins asked.
After the anguish of Sept. 11th and all his demoralizing injuries, Joey was immensely proud to finish his career on the ball field, he told the panel. But the accomplishment belonged to many. He brought up the boys on his boyhood baseball team in Queens, few of whom would attend college. He discussed the nine firemen who taught him to play with fire and grit. He recalled the men from Washington, D.C., who put their necks on the line for a kid who needed a break. There was his mom, who made him wear his baseball uniform to school so he had time to finish his homework before games. And his dad, who hit him ground balls when his teammates deserted him. "This was not just about me," Joey said. "I had an obligation to all these people who had given me this chance."
Panelists asked him about his proposed field of study, steroids in baseball, Sept. 11, and other topics.
Before he knew it, Joey was interrupted. "Sorry, 20 minutes is up."
Joey had never considered applying for a Rhodes Scholarship until his senior year. He knew little about the fellowship -- only that it was handed out annually to the nation's most nimble minds. "In my neighborhood, you are more likely to meet a Martian than a Rhodes Scholar," Joey said.
But in the fall of 2006, Joey's friend Sam Potolicchio, a 24-year-old PhD candidate at Georgetown, suggested he think about it. Sam worried that while Joey always made straight As, he had never taken time to read classic works of literature, travel to foreign countries, or reflect deeply on what he wanted from life. At the same time, a Rhodes Scholarship would get Joey into an intellectual fraternity that would open up doors for his future. But Joey was skeptical -- how could a guy like him win a Rhodes Scholarship?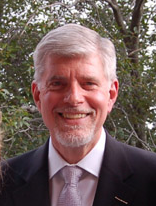 John Glavin

Universities prepare students for high-profile fellowships with varying degrees of enthusiasm. The United States Military Academy at West Point offers a credit-bearing course that helps cadets land coveted scholarships. Syracuse University asks advisors to pitch in.
At Georgetown, nearly all applications run through Professor John Glavin, the brilliant and demanding head of the university's fellowship office. "Dr. Glavin is a legend," said Alex Bozmoski, a former Georgetown fellowship candidate. "People fear him and people love him."
Glavin joined Georgetown's faculty in 1967, just a few years after earning his undergraduate degree there. At 67, he is lean and fit, with the unflagging stamina of a graduate assistant. His neat white hair and tweed wardrobe recall his days as a playwright, a career he abandoned to focus on his students. For more than 40 years, Glavin has taught Victorian literature, Shakespeare, and screen writing. His former students include Jonathan Nolan, whose short story became the basis for the 2000 film, Memento. (The film features a character named "John G.")
His confident vocabulary, intense demeanor and height -- Glavin is 6'4'' -- are only part of his intimidating presence. While some professors keep their true opinions of students' work to themselves to protect feelings, Glavin is unencumbered by such concerns. If he feels a student's essay was mechanical or their answer banal, he says so. "I was told I was like a doughnut -- substantive, with a big hole in the middle," recalled Arthur Chan, a former Georgetown fellowship candidate. "I was a sandwich with no meat."
In addition to teaching full-time, Glavin spends countless hours preparing Georgetown students to compete for post-graduate fellowships. For some undergrads, the process begins during their first year on campus in Glavin's seminar for elite students. The fellowship office also sends emails to all sophomores, juniors and seniors on track to graduate summa cum laude. In addition, alumni or faculty sometimes flag a student who might have a shot at a fellowship.
In Glavin's fellowship workshop, students begin their preparation in earnest. Applicants for several big-time fellowships -- the Rhodes Scholarship, the Marshall Scholarship, and the Mitchell Scholarship -- are grouped together. Glavin makes clear that the odds are against them. "The chances of anyone winning a fellowship are infinitesimal," he says in a letter emailed to candidates. "There are too many talented people out there, and too few fellowships."
To illustrate the mindset of a strong fellowship applicant, Glavin uses the analogy of a Congressional office, one former candidate said. Given its proximity to Capitol Hill, Georgetown students often take internships with members of Congress. But Glavin reminds students that some people had staff while others were staff. And it's those with the ambition and ability to one day have a staff of their own that make the best fellowship candidates.
The workshop demands long hours of reading and writing. Every morning, students are asked to write their "morning pages," or fill three sheets of paper with whatever they are thinking -- an assignment intended to clear their minds for the day. (The pages are turned in to the fellowship office and promptly destroyed.) Glavin teaches students to only write essays that could be sung. He once instructed students to stand on their desks and make animal noises at the person seated across from them -- an effort to get them out of their comfort zone. They practice walking in and out of rooms, working to project the confidence of a colleague as opposed to the deference of a subject. And when speaking from a seated position, students learn not to hide their hands under the table, which could arouse suspicion, but to steeple them on their desk.
While fellowship workshops typically start with around a dozen students, the numbers dwindle as the semester goes on. The workload and criticism are too much for some. Others aren't fellowship material. "We used to joke that it was kind of like Survivor -- who's going to get kicked off the island this week?" said Katherine Boyle, a former Georgetown fellowship applicant.
Sam thought Joey had what it took to win a Rhodes Scholarship -- even if Joey didn't. Sam convinced Joey to meet him regularly for dinner at The Tombs, a restaurant and bar right outside campus. He put Joey through exercises designed help him articulate his values and goals. What drives you? What do you want people to say about you after you're gone? But despite Sam's encouragement, Joey still didn't think he had a shot at winning. So without even telling him, Sam sent an email to Glavin over the winter suggesting that Joey would make a strong Rhodes candidate. Meanwhile, a former teammate of Joey's also recommended that Glavin see if he would be interested. Early in the spring semester, Joey received an email -- from Glavin.
At 8 a.m. on a Thursday, Joey met Glavin in his office on third floor of Georgetown's New North hall. For an hour or so, Joey sat in a wooden rocking chair and chatted with Glavin about his family, his experiences after Sept. 11, and his plans for the future. Joey didn't think he said anything gripping, but when they'd finished, Glavin asked Joey to return the following Thursday, again at 8 a.m.
Soon, the two were meeting each week to discuss topics of interest to Joey.
Who is the best baseball player of all time, Glavin once asked.
"Derek Jeter," Joey responded.
Joe Sr. had met Jeter at Yankee Stadium when he was invited to throw out the opening pitch. And Joey thought Jeter had the stoic dignity of a New York City fireman.
The response was a fine example of how to ground an answer in your own personal story, Glavin said. But there were other ways of responding: If you consider baseball an individual game it's hard to argue against Barry Bonds, who holds Major League Baseball's single season and career home run records. But if baseball is a team sport, you've got to consider Yogi Berra, who has 10 World Series rings. Glavin urged Joey to explore different ways of approaching a question before committing to a response. "I didn't realize it then, but he was reteaching me how to think," Joey said.
Joey was used to being pushed by baseball coaches, but no teacher had ever demanded more from his mind. The meetings quickly became an exciting new part of Joey's routine.
For all its luster, the Rhodes application is surprisingly thin. Candidates must submit their academic transcripts, five to eight letters of recommendation, and a 1,000-word personal statement, which, among other things, outlines their proposed course of study at Oxford. From the hundreds of applications they receive, each of the 16 distinct regional selection committees choose roughly a dozen candidates to interview in person, two of whom will be awarded the fellowship. But before a student can apply, he or she must first be endorsed by their university's faculty. All told, some 800 Rhodes candidates receive faculty endorsement each year. And while some colleges back anyone willing to put together an application, Georgetown only signs off on students it believes are capable of winning. As such, its candidates may be required to appear before a faculty panel and interview just as they would in a real fellowship competition. The exercise is called an endorsement interview.
With Sam's help, Joey began to formalize his proposed course of study at Oxford. Ever since Sept. 11, he had been fascinated by veteran's health care issues. Joey considered the wars in Iraq and Afghanistan a direct response to the massacre of those nine firefighters -- and hundreds of others -- on Sept. 11. In an odd way, Joey felt personally responsible for the planeloads of young soldiers arriving home without limbs or struggling with post traumatic stress disorder. Joey made the issue a centerpiece of his senior thesis, which explored the effects of war on the American family. "It was a trigger from what happened to his father," said Fr. Joseph Palacios, Joey's thesis advisor. "It was a passionate thing." His research projected that Iraq War veterans will be more negatively affected than soldiers of any previous conflict. At Oxford, Joey wanted to study the British system of providing heath care to veterans so he could discern how the U.S.'s might be improved.
Joey wasn't aware of the endorsement interview until days beforehand. He didn't own a suit, having worn his blue blazer to Sept. 11 funerals. Men's Wearhouse couldn't have one tailored in time, so he scrambled over to an upscale Italian clothier in Georgetown and paid close to $2,000 for a dark blue suit, a dress shirt, and a tie. The transaction left him with about $50 in his bank account.
The interview took place on May 3, a reading day right before finals. Joey felt uneasy but confident as he entered Gervase Hall. When he heard the first question, however, he about fell over.
"I see here you taught at Ronald Brown Middle School in Washington, D.C.," a panelist asked. "Mind telling me who Ron Brown is?"
Joey had no idea. "Oh shit!" he thought. Embarrassed, he admitted his ignorance. (Ron Brown was the commerce secretary under President Bill Clinton -- the first African-American to hold the post.)
Although rattled, Joey slogged through the rest of the interview. Weeks earlier, the subject of veteran's health care had jumped into the national spotlight when The Washington Post published a series of articles on the poor treatment of veterans at Walter Reed Army Medical Center. The panel asked Joey several questions on that topic and about his family's experiences on Sept. 11.
But it was his answer to their final question that would prove his most important.
"If you could go back in time and watch one baseball game in history, which one would it be?" a panelist asked.
For Joey, it was an easy one. During his junior year at Chaminade , Joey hit a home run in the New York State high school baseball championship game. The baseball landed just a few feet away from his grandfather, who was in a wheelchair beside the left field bleachers. His grandfather's health soon deteriorated, and that game was the last of Joey's he ever saw. After the game, Joey left his family to party with his friends. If he could go back to one game, Joey said, he would return to that day and spend the evening celebrating with his grandfather.
As he left the room, Joey was convinced his Rhodes Scholarship experience had ended.
"I lost," he told his mother over the phone. "I didn't know who Ron Brown was."
"You gave it your best shot," his mother replied. "I'm proud of you for going this far."
But later that afternoon, Joey received an email from Glavin. The subject line read, "YES!!!"
"[Y]ou did it. Grand Slam," Glavin wrote. "The committee loved you. They endorsed your candidacy enthusiastically. In fact, but you can't say this to anyone around here, you were by far the front-runner. By far... Talk about the guy who came out of nowhere to lead the pack."
But the real work, Joey learned, was ahead of him. "We've lots to do, you and I," Glavin said in the email.
The Rhodes Scholarship competition, Glavin liked to say, was the Olympics of academia. "You must be literally peerless," Glavin said. "When people look at the best and the brightest of your generation, you stand head and shoulders above even them." To win, candidates had to be comfortably literate in a full sweep of topics and disciplines, Glavin said.
Early on, Glavin spotted a weakness in Joey's candidacy: while he was clearly a bright guy, Joey lacked the cultured polish that the Rhodes committee craved. Glavin once told Joey in an email he came off as, "an emotion-driven, man-of-the-street type who seemed never to have read a book or thought through a complex problem." Joey was raised in a firehouse. He worked nights at a bar and spent afternoons on the ball field. Even in college, Joey preferred a Notre Dame football game to a Fyodor Dostoevsky novel.
To fill these gaps, Joey visited Washington, D.C.'s museums and art galleries. He read the poetry books Glavin gave him. But despite his efforts, he was incapable of developing a genuine appreciation for fine art or opera. Joey's artistic illiteracy made him feel vulnerable as the process carried on.
Joey was one of seven Georgetown students to receive a faculty endorsement for the Rhodes in 2007. "But Joe is, in fact, the only candidate to be endorsed during my years as Fellowship Secretary who did not make first contact with our office," Glavin later told the Rhodes committee.
Two weeks after Joey's endorsement interview, Glavin told the students that the next four months would be the most crucial period of their candidacy. "No one in this year's group (or indeed in any year's group that I have seen) could possibly be a serious candidate based on where they are in the process right after endorsement," Glavin said in a letter emailed to candidates. "Now you have to go out and really achieve."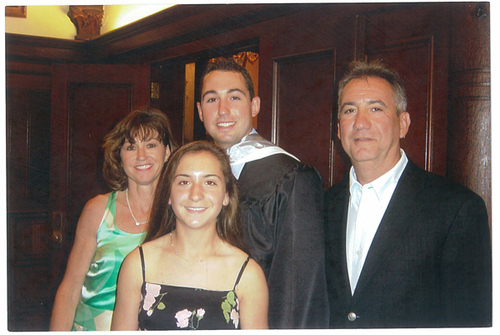 Joey with his mother, father, and sister on the day of his graduation from Georgetown.
In May of 2007, Joey graduated from Georgetown, summa cum laude. (His cumulative grade point average was above 3.9.) That summer, Joey began working as a paralegal at Patton Boggs, a Washington, D.C. law firm. He billed 40 hours a week, coached a baseball team, and connected up with a former Army officer to do pro bono work for disabled veterans who had been denied medical benefits. In every free moment, Joey worked on Rhodes materials.
To keep on top of current events, Joey read The New York Times cover to cover every day. He studied books on subjects like public speaking -- "Speak Like Churchill, Stand Like Lincoln," by James Humes -- and presenting compelling thoughts -- "Made to Stick: Why Some Ideas Survive and Others Die," by Chip and Dan Heath. He stayed in the library through the night, plumbing the details of veteran's health care policy, and gathering statistics. The Department of Veterans Affairs has a backlog of 400,000 disability claims? For soldiers' perspectives he spoke with military veterans in the U.S. and the United Kingdom. All the while, he was in regular communication--in person and over email--with Glavin.
Meanwhile, Joey met with Sam several nights a week to review news events and knock around ideas for improving the veteran's health care system. Although Joey felt pressured by Glavin to project a more worldly image, Sam urged him not to pretend to be someone he wasn't. That would defeat the whole purpose of the experience.
To friends, Joey had vanished. Once, his college teammate Nick Barnicle stopped by his basement apartment. "There was nothing in the fridge, copies of The New York Times were piled high," Barnicle said. "He was just grinding every day, going through documents and reading materials, digging up all the op-ed writers."
At that point, Joey's most important task was his personal statement, which was due to the selection committee in early October. "Every paragraph has to dazzle; every sentence has to sparkle," Glavin said in an email.
Among other things, the Rhodes personal statement requires applicants who are still in their early 20s to map out the rest of their lives. To do so, candidates must first take an incisive look at themselves, pinpointing the very ideals that make them tick. Glavin's preparation process "starts out sort of being about the competition, and then over time people figure out that it is about something much greater," a former Georgetown candidate said.
After intense self reflection and conversations with Sam, Joey told Glavin that his long-term plan was to attend Georgetown Law School and join the military as a member of the Judge Advocate General's Corps.
Glavin's reaction was startling. I "have to ask you whether -- and indeed why -- you continue to be committed to the Rhodes," Glavin said in an email. "I don't quite see how Oxford would contribute anything significant to what seems now to be your career path -- GU Law -- Army JAG etc... I don't think we should continue until you decide that you have gone on beyond a plan that could use Oxford or you can make clear how a specific Oxford degree would be of real use to you."
But after Joey explained that joining the military would allow him to serve veterans more effectively, Glavin relented.
"OK, Joe!!! It all makes sense now," Glavin said in an email. "JAG so you can represent Vets as yourself a Vet. Indeed. It's a strong paper case."
Joey wrote and rewrote his personal statement more than 100 times. He worked through tricky sections with Sam and got written feedback from Glavin. ("I think this draft is on the whole a SERIOUS step backward," Glavin said in an email.) But by October 1, Joey and Glavin were satisfied.
Once the paper portion of the application had been completed, Glavin turned to the interview. A fellowship interview, Glavin explained, resembles a game of squash. Nearly any topic is fair game -- what's the best idea of the 20th Century? -- and as soon as you handled one question, the next is on its way -- are we, as a society, too ironic to make good art? There is no singular correct answer, but there are plenty of lousy ones. Fellowship judges use the interview to determine a candidate's breadth and depth of knowledge, how they think on their feet, and react when challenged.
To get students ready for the inquisition, Glavin organized a series of mock interviews. He invited Georgetown professors and prominent figures from around Washington, D.C. -- including former fellowship winners -- to grill the students, one at a time, just as the fellowship committees would. Joey made the short trip from the Patton Boggs office to Georgetown's campus to attend. Most interviews were filmed. Afterwards, candidates would review the tape and receive detailed feedback from Glavin and others. "Joe, I know I put the water in front of you, but you should not drink from it. Not during the interview," Glavin's assistant told Joey in handwritten notes after an October 17 mock interview.
Glavin's judgment could be withering. "[O]f the seven disastrous performances we saw on Monday night yours was in many ways the worst," Glavin told Joey in an email. "There was [a] tetchy, ungenerous truculence about it -- a surprising lack of charm, of warmth of [energy]. You brought nothing into the room."
Still, when he learned Joey had been selected as a Rhodes finalist, Glavin's pride was apparent. "Congratulations, Joe," Glavin said in a November 1 email. "You worked very very hard to earn this."
Glavin's affection for his candidates became increasingly visible as the final interviews neared. When one fellowship candidate couldn't afford an appropriate dress shirt or tie for his final interview, Glavin had his assistant take him to Brooks Brothers so he could look his best.
"OK, here's where I get paternal and almost weepy," Glavin said in an email dated November 14, two days before Joey's Rhodes interview in New York. "I have come to love and admire each of you. You've done terrific things for and with us here -- nothing of course compared to the terrific things you will still do, whatever the outcome of this weekend. I believe in you...We could not be fielding a finer squad."
After his interview with the panel in the dark hotel room, the waiting began. As the hours passed, other candidates grew cozy. But Joey kept his eyes fixed on his notes. There was always a chance the committee would ask certain candidates to reinterview, and Joey wanted to be prepared. Soon, candidates snuck into a nearby room set up for a bar mitzvah to play ping pong and pop-a-shot basketball. Eventually, Joey joined them.
About 4 p.m., the committee summoned the candidates into the dining room. Some sat down, others remained standing. Dodyk moved to the front of the table.
We're going to make this quick, Dodyk said. There is no reason to keep you waiting any longer.
The committee had selected two Stanford graduates, Laurel Gabler of East Hampton, N.Y., and Scott Thompson of the West Village of Manhattan. The winners were to join the committee in the interview room. Everyone else, good luck.
"In some ways, it seems like [the committee] kind of picked a couple people that reminded themselves of each other," said one candidate who did not receive the fellowship. "It was a little bit disappointing."
Most candidates took the news gracefully; everyone knew their odds were thin. Several even headed out for a drink together. (Two of whom, in fact, would later that night be cited by police for drinking in public.)
But Joey was devastated. He slinked back to his hotel room to give Glavin the disappointing news.
You've represented Georgetown well, Glavin told Joey. You should be proud.
Along with other friends, Headfirst Director Sullivan had made the trip from Washington, D.C., to New York for what he hoped would be an evening of celebration. Joey went out with his friends, but left the bar an hour later.
The following morning, Joe Sr. picked up his son from the hotel. Together, they drove back to Floral Park.
After learning that he had not won the Rhodes Scholarship, friends and family drenched Joey with support. "Arguably the worst decision since the Portland Trailblazers decided to select Sam Bowie instead of Michael Jordan with the second pick of the 1984 NBA draft," the parents of a baseball player Joey had coached said in an email. "What was the selection committee thinking?"
Joey had quit his job at Patton Boggs a week before the interview. On Dec. 1 he would leave for the Dominican Republic, where he had a volunteer position at a baseball and literacy program in an impoverished town. A couple days after the Rhodes interview, he returned to Washington, D.C. to pack up his apartment. While he was in town, Joey stopped by Glavin's office with a bottle of Scotch, a token of gratitude for his tireless fellowship advisor.
Glavin asked Joey if he would consider applying for a different fellowship the following year. Perhaps a Mitchell or a Marshall.
Although Glavin's criticism had been rough, Joey considered the Rhodes preparation process the most formative part of his Georgetown education. He better understood himself and he knew what he wanted from life. But Joey was exhausted and couldn't imagine putting himself through the process again.
It's too soon, Joey told Glavin.
In the early afternoon of Saturday, November 21, 2009 -- two years after his Rhodes interview -- Joey found an open seat at the bar in The Dupont Hotel in Washington, D.C. With his Mitchell Scholarship interview now over, the possibility of making it all the way to the finals -- and losing again -- filled him with dread. The selection committee was still deliberating. So Joey watched the Michigan-Ohio State football game with the other candidates in the bar.
The prestigious Mitchell Scholarship program sends up to a dozen Americans to Ireland each year. Joey's competition included a Navy Midshipman who won the Purple Heart and the author of an amendment to Congressional health care legislation.
Joey decided to apply this past spring. His six months in the Dominican Republic had been his first experience out of the country, and now he couldn't wait to get overseas again. If he won, Joey would have to take a year off from Georgetown Law, which he started in 2008. But a Mitchell Scholarship would allow him to study the veteran's health care system in Ireland and determine which components could be applied to the United States. And the chance to come back from one more disappointment motivated Joey as well.
Joey went through the process with Glavin once more -- writing and rewriting statements, mock interviews, critiques. And although law school prevented him from preparing as rigorously as he wanted, he learned he was a Mitchell finalist in October 2009.
The eight members of the Mitchell panel were seated around a horseshoe-shaped table. "Why do you want to join the Marines?" one panelist asked. "Haven't you done enough damage to your body?"
Not even Joey's mother could talk him out of signing up for the military. His service would be a way to repay the nine firefighters who died on Sept. 11. Moreover, if he really wanted to serve veterans, Joey believed he had to become one himself. Joey told the panel he chose the Marines because the branch would allow him to go through basic training like any other enlisted soldier. And it was important for him to experience the same boot-camp hardships as the young Americans he would one day command.
Joey's enlistment had been held up by the injuries he sustained playing baseball, but his plan was still to serve, then continue advocating for disabled veterans -- perhaps one day serving as the head of the Department of Veterans Affairs.
Unlike the Rhodes, the Mitchell committee notifies its recipients by phone after making its selections. When the football game ended, Joey headed home.
Around 4:30 p.m., his phone rang.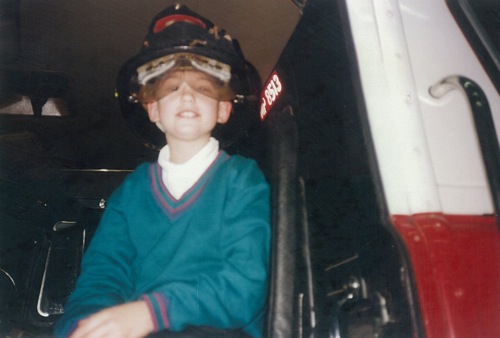 Joey sits in his father's fire truck with a fireman's helmet on.
Joey usually only went to Kelly's Irish Times after completing his final exams for the semester. But on that night, the old Washington, D.C. pub seemed like the most appropriate place to invite friends for drinks.
"How much Jameson do you have?" Joey asked the bar tender.
The bar tender pulled a three-quarters-full bottle off the shelf and showed it to Joey.
"Keep 'em coming until it's gone," Joey said with a smile.
See a slideshow of Joey's story: