ESPN.com writer Bill Simmons took to Twitter today to vent his frustration with his employer's social media policy. The source of today's dispute is a series of tweets Simmons wrote in December about an injury suffered by Patriots QB Tom Brady.
On December 10, Simmons wrote, "Hearing that Tom Brady jogged off field after first Miami TD because he broke ribs (plural). Came back wearing a flak jacket." Three days later, he added, "Strange nobody believes me on Brady. He broke ribs (plural) on first Pats TD in Miami. Playing with heavy flak jacket today." He also wrote that 'Adam Schefter just said Brady had "sore ribs.' That's like saying EJ Henderson has a sore leg. Whatever. Nobody believes me." (Henderson had recently suffered a gruesome leg injury.)
Yesterday, ESPN reporter Adam Schefter and Charley Casserly of CBS both reported that Brady has been playing with three broken ribs. Both reporters were credited in the ensuing ESPN article, but Simmons was not.
In a series of tweets today, Siimmons referenced his prescient December posts and wrote that "apparently ESPN's new social media guidelines don't cover giving Casserly and Schefter credit for this." He claimed that "I don't care" about the issue, adding, "The whole 'scoop' thing is overrated. But what's the point of governing Twitter if you don't take it seriously?"
In August ESPN unveiled a social media policy that outlined the terms under which employees can use Twitter and social networking websites. Less than four months later Simmons was suspended from Twitter after he wrote several negative tweets about a radio show affiliated with ESPN. Simmons reportedly was barred from using Twitter for two weeks unless the tweets pertained to his book tour.
Scroll down for screenshots of Simmon's tweets.
LOOK: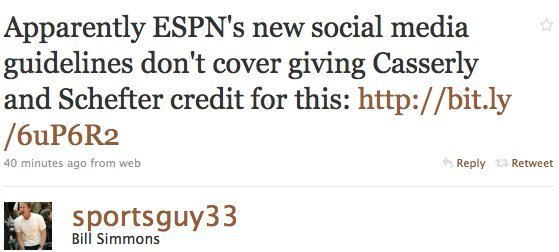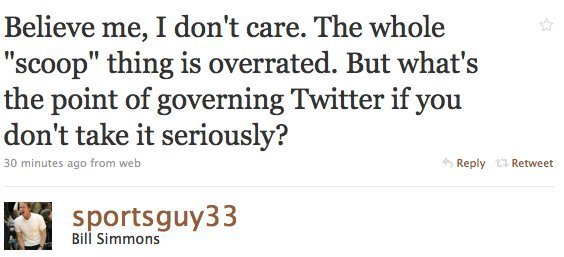 EARLIER: