For the rest of the best in art and culture this weekend, check out Flavorpill LA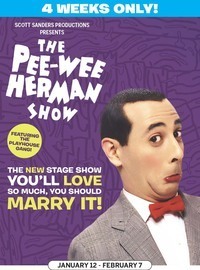 The Pee-wee Herman Stage Show
Jan 12 - Feb 7
Tuesdays-Fridays (8pm)
Saturdays (4:30 & 8pm)
Sundays (4 & 7:30pm)
Club Nokia
800 W Olympic Blvd
213.765.7000
Info
For many of us, Pee-wee Herman has been a demented-yet-diverting fixture of youth. The architect of such childhood classics as Pee-wee's Big Adventure (1985) and Pee-wee's Playhouse (1986-1991), he's successfully tried his hand at both the big and the small screens, with the forthcoming Pee-wee's Playhouse: The Movie currently in production. Masterminded by the intriguing, mercurial, and occasionally scandalous Paul Reubens, Pee-wee Herman has as many fascinating layers as his alter-ego. He's bringing his live act to Club Nokia for an exclusive four-week engagement, finally answering the age-old question, "I know you are, but what am I?"
- Tanja Laden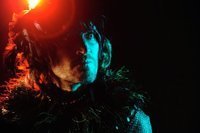 Projections: A Festival of Rare and Hard-to-See Films
Opens Saturday Jan 16 (6-9pm)
Jan 16 - Feb 20
Tuesdays-Saturdays (11am-6pm)
Roberts & Tilton Gallery
5801 Washington Blvd
323.549.0223
Info
Organized by co-curator of 2008's Beautiful Losers, Aaron Rose, Projections: A Festival of Rare and Hard-to-See Films is just what it seems -- an opportunity to catch uncommon shorts and rare video-art gems. Over the course of a month, the public has the chance to see works by both established and up-and-coming filmmakers, spanning a wide array of genres, from Bruce LaBruce's Give Piece of Ass a Chance (2007, 14 minutes) to Jean-Luc Godard's Slow Motion (1980, 85 minutes). Opening night features a selection from the ongoing festival, including Brian Butler's Night of Pan (2009, 7 minutes), with Vincent Gallo and Kenneth Anger. Films are rotated on a continuous daily basis; check the schedule for details.
- Tanja Laden


Henry Jaglom's Just 45 Minutes from Broadway
Oct 17, 2009 - Feb 28
Thursdays-Saturdays (8pm)
Sundays (5pm)
Edgemar Center for the Arts
2437 Main St
310.399.3666
Info
Henry Jaglom's father was a wealthy Russian businessman, and one of the few Jews Heinrich Himmler offered make an "honorary Aryan" before he finally settled in New York with Jaglom's mother, a direct descendant of 18th-century German philosopher, Moses Mendhelsson. Considering his pedigree, it's not surprising Jaglom chooses a Jewish family as the subject of Just 45 Minutes From Broadway. The Ambien-counting patriarch (Jack Heller) recalls his deep roots in the Yiddish theater, while his wife and fellow actor (Diane Salinger) succumbs to bouts of spontaneous divination. Their youngest, the 30-year-old Pandora (Tanna Frederick), has moved back home after yet another failed relationship, while her older sister Betsy (Julie Davis), brings home her non-thespian fiancé (David Garver), who develops an unexpected reaction to his hosts. They are joined by fellow underemployed veteran actor Uncle Larry (David Proval) and the good-natured boarder, Sally Brooks (Harriet Schock). What unfolds is a delightfully dramatic treatise on the virtues of character and drama, and a lesson on embracing the crazy in us all.
- Tanja Laden