Michelle Obama and Bo surprised visitors to the White House today to mark the one year anniversary of the inauguration, which the White House streamed live. The first lady spent almost an hour shaking hands and chatting with the visitors and answering questions. One child asked if Bo had a tongue. Another visitor held her hands gave her a heartfelt thank you to pass on to the president. Video and stills below.
Watch Obama family videos from the last year and vote for your favorite.
WATCH:
PHOTOS: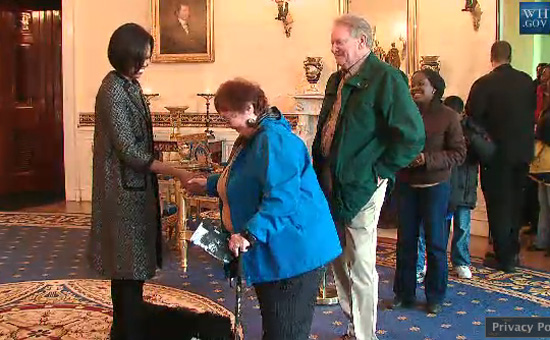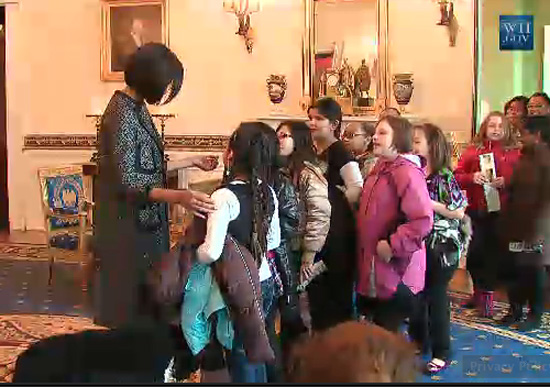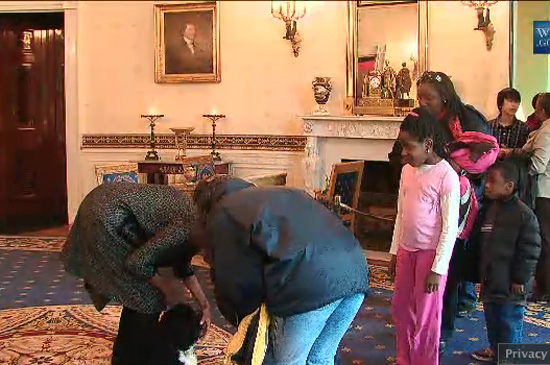 From the White House's press release:
On January 21, 2009, President Obama and First Lady Michelle Obama entered the White House and signaled their commitment to creating a more open and accessible White House by surprising guests attending public tours. One year later, over 614,000 visitors have walked through the gates of the people's house, marking the largest attendance post 9/11. This number reflects Residence tourists, guests at the 2009 Easter Egg Roll, Fall and Spring Garden Tours and White House Kitchen Garden school group tours. Mrs. Obama is marking the first year by continuing this tradition today - taking some time to greet visitors as they come in for public tours.

The President and First Lady have sought to not only increase the number of visitors, but also enhance each visitor's experience at the White House. The China Room is now open to public tours and tourists are frequently invited out to the South Lawn to watch the President depart or arrive on Marine One. When possible, United States Secret Service now lead guided tours of the Executive Residence in the morning, giving guests a better understanding of the history as they walk through.