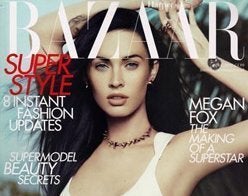 Megan Fox covers the April Harper's Bazaar, and inside she talks about her sex life and shows a glimmer of self awareness about her branding strategy. The issue hits newsstands March 4. Here are some excerpts from the interview:
"I've only been with two men my entire life. My childhood sweetheart and Brian. I can never have sex with someone that I don't love, ever. The idea makes me sick. I've never even come close to having a one-night stand."
On giving provocative interviews:
"My biggest regret is that I've assisted the media in making me into a cartoon character. I don't regret what has happened to me, but I regret the way I have dealt with it."
On her sex scene in the upcoming DC Comics adaptation 'Jonah Hex':
"I had on underwear and silicone covers that you wear over your breasts. My body parts are all I have left now that are only mine - the world owns everything else."