It's that time of the year! Today the White House unveils their official souvenir egg for the 2010 Easter Egg Roll. Here's a photo. Scroll down for the White House's press release with details.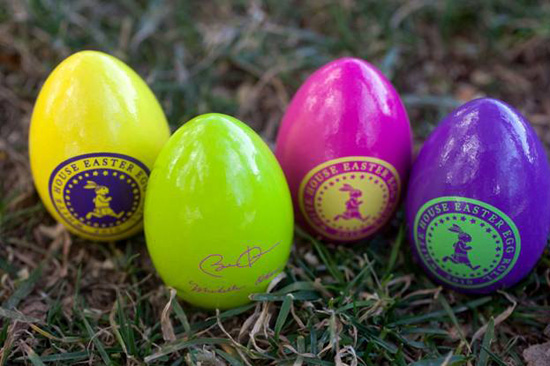 Official White House Photo by Lawrence Jackson
From the White House press release:
This year's egg comes in four colors - purple, pink, green, yellow - and includes the stamped signatures of the President and First Lady.

In a continued effort to make the Easter Egg Roll more environmentally friendly, all eggs have again been crafted in the United States from Forest Stewardship Council-certified hardwood. The packaging has also been designed to minimize waste and environmental impact, helping to create a 'greener' Easter Egg and Easter Egg packaging.

Below is information on the packaging:

* Made from Sustainability Forest Initiative (SFI) - certified paperboard
* SFI paperboard uses no wood fibers from endangered forests

· The printed carton is easily recyclable when collected and processed in a municipal or community Paperboard Recycling Program

* Features vegetable oil-based inks and a water-based coating

The National Park Foundation (NPF) produces and sells the White House Easter Egg. The egg is given as a souvenir to all children 12 years and younger who attend the White House Easter Egg Roll on the South Lawn, which is part of the National Park System.

Anyone can view and purchase the souvenir egg online via the National Park Foundation website at: easter.nationalparks.org

The 2010 Easter Egg Roll will take place on Monday, April 5th. The White House Easter Egg Roll is focused on promoting health and wellness with the theme, "Ready, Set, Go!".


All of the activities will encourage children to lead healthy and active lives, which is a central part of the First Lady's Let's Move! initiative, a national campaign to combat childhood obesity.

For more details on the event please visit www.whitehouse.gov/eastereggroll


Media credentialing details for the Easter Egg Roll will be released later this week.