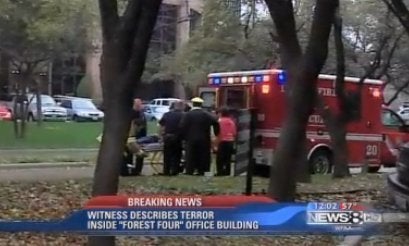 Robert Mustard, Jr., the man accused of shooting two men at a Dallas office building on Monday morning, was apparently trying to get his revenge on a financial advisory firm that he believed had lost all his money.
According to the Fort Worth News, when Mustard approached his financial adviser, Richard Smith, 66, and his son, Chris, 39, in their office yesterday, he accused them of taking "all my money," before opening fire with a 45-caliber weapon.
Mustard shot the elder Smith in the legs and his son -- who fled down an escalator into the lobby -- in the neck. With blood "gushing from both sides of his neck," witnesses told the AP that the younger Smith begged bank employees and customers for help:
"He was screaming and crying," said Abraham Achar, who was visiting his friend at the United Texas Bank on the first floor. "He said, 'He shot my dad.'"
When police arrived, Mustard was still on the premises, authorities said. Police shot at -- but missed -- the gunman, a disbarred lawyer, who then barricaded himself in an office and shot himself in the head.