A model walks the runway during the Yves Saint-Laurent Ready to Wear show as part of the Paris Womenswear Fashion Week Fall/Winter 2011 at Grand Palais on March 8, 2010 in Paris, France. (Photo by Dominique Charriau/Getty Images)
Scroll down for more photos and the AP review: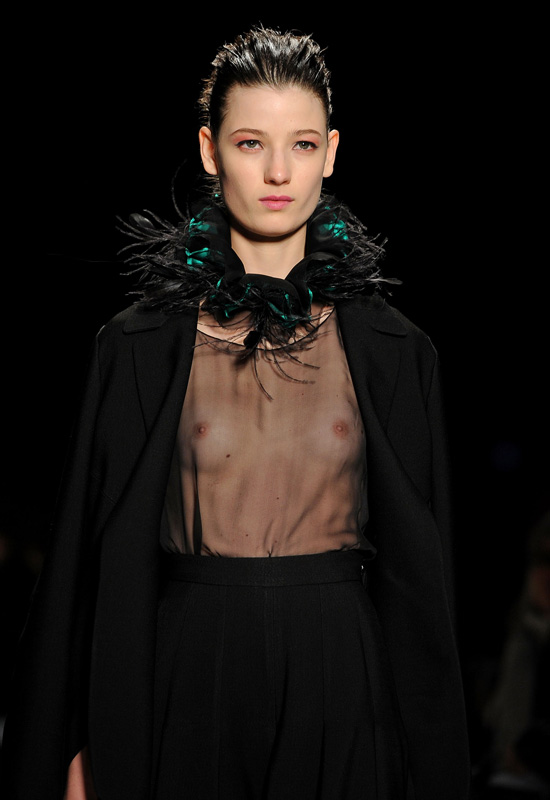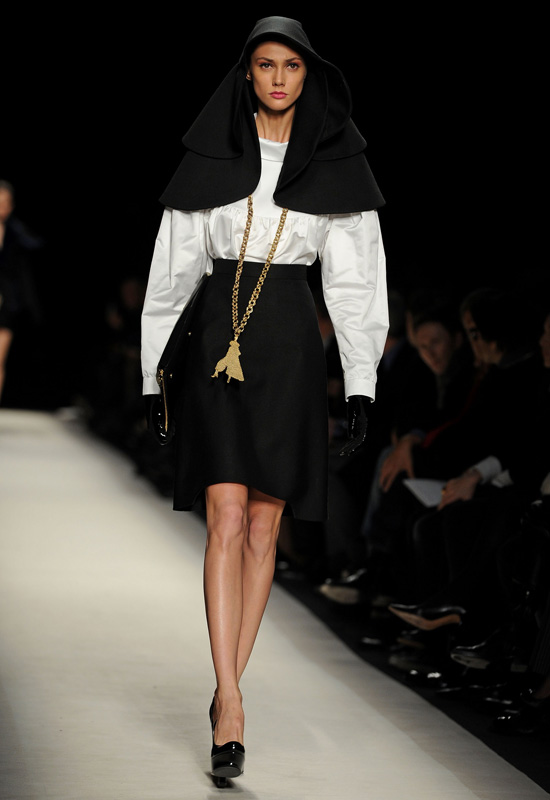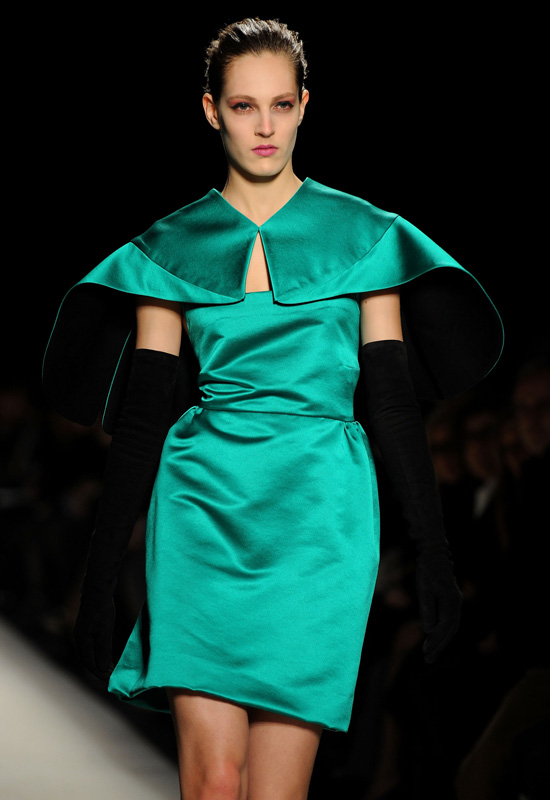 BY JENNY BARCHFIELD, ASSOCIATED PRESS:
YVES SAINT LAURENT
What is it about the Pilgrim aesthetic that Pilati finds so beguiling?
The Italian designer sent out structured black skirt suits hung with the wide round collars or, stranger yet, exaggerated epaulettes in clear plastic, like what raincoats are made from.
A white poplin peasant shirt was paired with a high-waisted black skirt and round black collar with dangling plastic flaps. Another black pencil skirt and ample poplin shirt was worn with a multitiered black bonnet like those worn by certain orders of Catholic nuns.
Odder still, many of these rigorous, almost ascetic looks were worn with massive gold chains and dangling cutouts of people in profile.
It was an unsettling but not entirely unappealing performance by Pilati, whose uncompromising aesthetic has won him flocks of devoted followers though his recent collections have garnered mixed reviews.
Even among the A-list guests at Monday's show, held beneath the lofty glass-and-steel ceiling of the Grand Palais, reaction was divided.
Porno-chic photographer Terry Richardson pronounced the collection "beautiful -- super sexy and chic."
"I think Yves would be happy," he told The Associated Press in a post-show interview, referring to the label's founder, who died in 2008 at age 71. But, in the interest of full disclosure, Richardson added "I have to say that I'm a fan of a big floppy hat, always. It kills me, it's always amazing."
Maria Shriver, on the other hand, was less convinced by the exercise.
The first lady of California and wife of Arnold Schwarzenegger said "I'm not sure where I would wear that."
"It's not really my lifestyle," she told The AP from her front row perch, adding "I'm definitely not a fashion connoisseur, though. It all looked very high fashion to me."
Other celebrity guests at the show included longtime YSL customer and the label's one-time muse, French actress Catherine Deneuve, and Australian pop singer Kylie Minogue, who braved the frigid temperatures and icy winds in a silk blouse, a pair of high-waisted leather shorts and fishnet stockings -- signed YSL, naturellement.