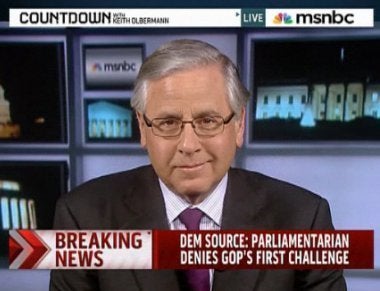 For the second time in as many nights, MSNBC contributor Howard Fineman has invoked Barack Obama's Kenyan heritage in comparing him to a marathon runner over his persistence in getting health care reform legislation passed.
"How did it happen, in a minute?" Keith Olbermann asked Fineman on MSNBC's "Countdown" Monday night.
"Persistence by President Obama, who comes from a country of long-distance runners and was one," Fineman said.
Sunday night, Fineman also compared Obama to the "long distance runners of Kenya."
Olbermann ended the segment by correcting and making light of Fineman's comment.
"You just said the President comes from a nation of long-distance runners; you mean he's descended from," Olbermann said. "Otherwise the headline is 'Fineman: Birther.' Howard Fineman, of MSNBC, Newsweek, and Birther Weekly."