It's time for an NIT Bracket 2010 Update.
UPDATE (March 31): NIT 2010 has narrowed down to two, as Dayton and UNC win their respective semifinal match-ups.
Earlier: If you're like most people, you're engrossed in the NCAA Tournament, which is about to begin its "Sweet 16" round. These 16 teams remain in that tournament and the updated bracket can be found here.
But the National Invitational Tournament (NIT) is about to begin its quarterfinal round and just eight teams remain. Find out who those teams are below, compliments of the NIT Web site.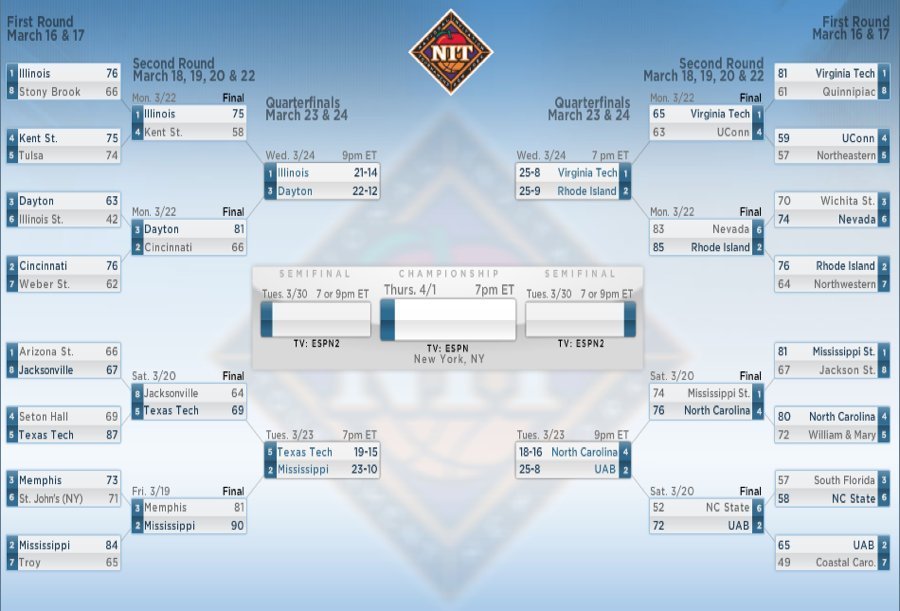 Here is the updated NIT 2010 schedule.
NIT QUARTERFINALS: March 23
No. 5 Texas Tech AT No. 2 Mississippi , 7 p.m. Eastern Time
No. 4 North Carolina AT No. 2 UAB, 9 p.m. Eastern Time
NIT QUARTERFINALS: March 24
No. 2 Rhode Island AT No. 1 Virginia Tech, 7 p.m. Eastern Time
No. 3 Dayton AT No. 1 Illinois, 9 p.m. Eastern Time
NIT SEMIFINALS: March 30
Illinois/Dayton vs. Texas Tech/Mississippi, 7 or 9 p.m. Eastern Time, Madison Square Garden, New York
UAB/North Carolina vs. Virginia Tech/Rhode Island, 7 or 9 p.m. Eastern Time, Madison Square Garden, New York
NIT FINAL: APRIL 1
Semifinal winner 1 vs. Semifinal winner 2, 7 p.m. Eastern Time, Madison Square Garden, New York