Vanity Fair photographs and speaks with four women linked to Tiger Woods in its latest issue. The magazine, which previously obtained a never-before-seen picture of Woods shirtless, features revealing photos of Loredana Jolie, Jamie Jungers, Mindy Lawton and Michelle Braun.
(SCROLL DOWN FOR PICTURE & VIDEO)
A preview of the article at Vanity Fair's web site confirms many previously rumored details and unveils new revelations. One source tells writer Mark Seal that Woods' father Earl, who reportedly had a history of extramarital affairs, was a heavy drinker. Mindy Lawton, meanwhile, claims to have had sex with Tiger in a parking lot while she was menstruating, after which Vanity Fair writes the National Enquirer found her tampon, which may have been used as leverage to score a Men's Fitness feature.
Tiger was reportedly told to steer clear of Michael Jordan and Charles Barkley, two buddies with whom he allegedly gambled and drank while in Las Vegas. Jolie has previously claimed that Woods is "bigger and better" than Jordan.
Click here for even more details from the upcoming issue, and scroll down for a video and a picture from the photo shoot.
WATCH:
LOOK: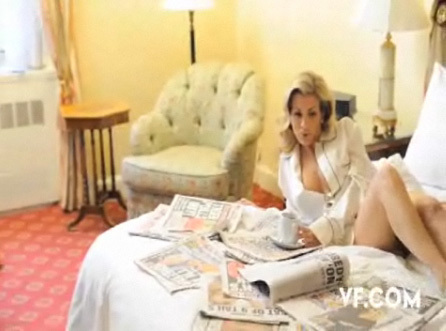 Women linked to Tiger Woods