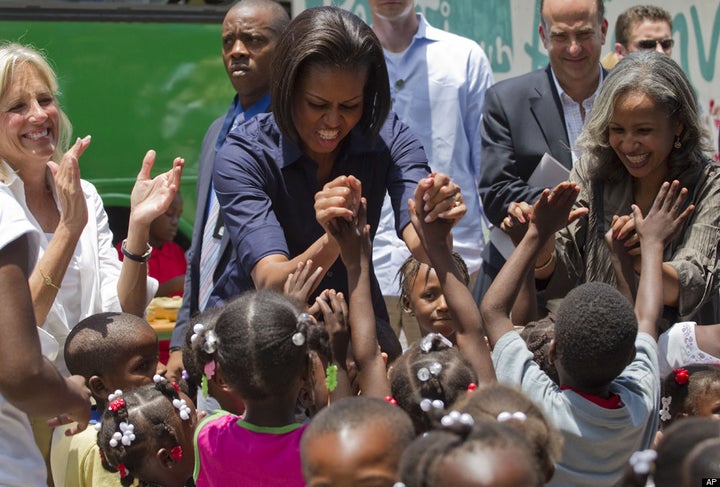 Michelle Obama made a surprise visit to Haiti Tuesday on the way to Mexico, where she met with children and teachers to discuss education priorities.
She also met with Haitian president Rene Preval and visited a children's hospital. Obama's presence in Haiti should re-focus some attention on the earthquake-ravaged country and the continuing humanitarian and reconstruction efforts.
See our original How To Help in Haiti page for information about how you can contribute to the relief efforts.
Obama will be continuing her campaign for healthy and educated children in Mexico. From the Voice of America:
Mrs. Obama will then travel to Mexico City for a three-day visit designed to advance U.S. ties with Mexico. She will meet with Mexican first lady Margarita Zavala de Calderon to discuss education and economic advancement.

The White House says she also will use her trip to engage with young people in Mexico, meeting with both elementary school pupils and university students.
Vice President Joe Biden's wife Jill is joining Mrs. Obama on the Haitian tour. The pair flew over some of the most impacted areas of the country, and have renewed the U.S. commitment to help Haiti rebuild.
International aid workers are striving to care for more than 1 million homeless Haitian quake survivors who are camped out in makeshift tent and shelter communities sprawled across the capital and in other damaged towns.