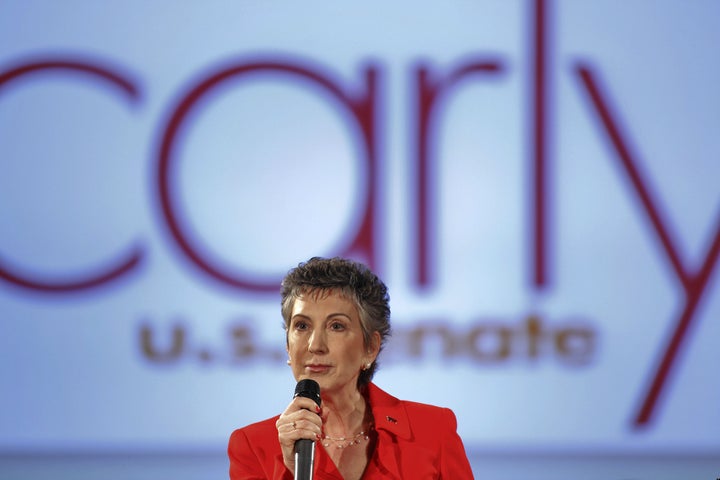 UPDATE: Yesterday we reported on the investigation into Hewlett Packards business practices and alleged bribery scandal involving Russian officials, and whether the alleged crimes took place during Carly Fiorina's tenure as CEO.
Today, The Sacramento Bee reports on Fiorina's effort to distance herself from the scandal. A spokesman for her campaign asserts that Fiorina was unaware of any illegal activity during her tenure and has not been contacted as part of the probe.:
"Carly has no knowledge of these alleged actions," said her spokeswoman, Amy Thoma. "When she served as the CEO of HP if she had been aware of any illegal or inappropriate behavior by any employee she would have taken action immediately to terminate the parties involved."
According to the Bee's report, her Republican competitor Chuck Devore was quick to point out that the alleged crimes took place during Fiorina's tenure:
"When confronted with this news, Fiorina will do what she always does: deny knowledge despite having been a famously micromanaging and bottom-line-oriented CEO," DeVore said. "Now that she aspires to constitutional high office, she owes Californians -- and herself -- something more. It's the one thing we have yet to see when she addresses her rocky and increasingly questionable corporate past: honesty."
The AP on the investigation:
Three people who once worked for Hewlett-Packard Co. were arrested in an investigation of alleged kickbacks totaling euro8 million ($10.9 million) surrounding a deal to sell equipment to Russian authorities, German prosecutors said Thursday.

The three were arrested in Germany and Switzerland in December and later freed on bail, said Wolfgang Klein, a spokesman for prosecutors in Dresden. He did not give their nationalities or other details, but said at least two of them no longer work for HP.

U.S. authorities are also apparently investigating, as HP issued a statement to say it was cooperating with the Securities and Exchange Commission. The SEC declined comment Thursday.

German officials say a total of nine people are under investigation in the case, but Hewlett-Packard itself is not being investigated and is believed to have been a victim.

The six others did not work for HP but allegedly were involved in handling a euro35 million deal to deliver computers, software and hardware to the Russian prosecutors' office.

The contract for that deal was signed in 2000, and the deliveries continued until 2006 or 2007, Klein said.
TPM noted that the dates of the illegal acts appear to be during Fiorina's tenure as CEO.:
The precise dates of the alleged bad acts are not completely clear from the article. But two references in the piece suggest they occurred during the middle months of 2003. That of course would place it during the tenure of now-Senate candidate Carly Fiorina as the company's CEO (1999-2005).

Though the investigation appears to be centered in Europe, it could trigger an SEC probe since foreign bribery by American companies falls under the Foreign Corrupt Practice Act.