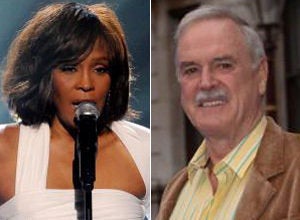 The travel chaos caused by the volcanic ash has had an affect on concerts and the arts worldwide, stranding performers, rerouting celebs and wrecking some concert plans.
There are multiple articles detailing the variety.
In Europe, John Cleese was in Norway, and ended up paying a cab $4,000 to drive him to Belgium so he could catch a Eurostar train back to London.
Whitney Houston and all the people associated with her European concert tour took a three-hour ferry ride from England to Ireland to make her date in Dublin.
The Daily Mail has those two stories and more, like the BBC personality who drove through the night from Madrid to Paris to catch a train, here.
The New York Times writes of the effect on opera, jazz and philharmonic concerts.
Carnegie Hall suffered an immediate casualty. The work of Louis Andriessen, the most prominent living composer from the Netherlands and a major figure in European music, was to have been featured in a concert at Zankel Hall at Carnegie Hall on Saturday night. But the performers could not arrive. The pianist Gerard Bouwhuis was stuck in Amsterdam, Carnegie said. The Bang on a Can All-Stars could not get out of Germany, where they were on tour, according to the group's executive director, Kenny Savelson. The All-Stars were to have given the American premiere of Mr. Andriessen's new work "Life."

"They're sitting in a hotel in Frankfurt," Mr. Savelson said. "No one really knows when the airports are going to reopen. At the very least, they're in a very cosmopolitan environment there. Maybe that's a positive thing for the weekend."
Read the Times article for more about how the ash has affected the jet set classical and jazz world.
Coachella attendees are in luck as the biggest names of the music festival, like Jay-Z, Pavement, Gorillaz and Faith No More, are in the US. The only three bands that had canceled as of Friday were the less-prominent Frightened Rabbit, Cribs and Bad Lieutenant.
Meanwhile Page Six reports Lou Dobbs was unable to fly to Geneva to see his daughter's equestrian competition. It's also rained all over the 70th birthday Saturday night in Belgrade for Princess Ira von Furstenberg, the sister of the late Egon von Furstenberg, as guests are unable to get there.
Of bigger impact is the havoc the ash will wreak on next week's London Book Fair, which plans to go ahead anyway.