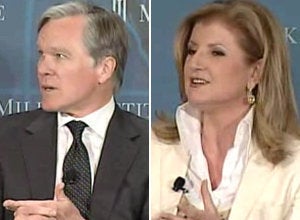 During the Milken Institute's Global Conference, Arianna Huffington, the New York Times' Bill Keller, Bloomberg's Andy Lack, Journalism Online's Gordon Crovitz, and NPR's Vivian Schiller participated in a panel on the future of journalism.
At one point, Keller praised the work the Huffington Post and the New York Times did using social media to cover the uprising in Iran.
"Both [Arianna's] site and ours, also the Atlantic and Andrew Sullivan, during the Iran crisis all did this wonderful act of hybrid journalism about a place where the actual reporters had been kicked out, and the Iranian reporters had been thrown in jail" Keller said. "And using people on the street combined with the expertise of professional journalists to arrange, package, vet this material...we're finding more and more that having that wall be open means that journalism is a collaborative process."
Moderator Terence Smith called that coverage the "high moment of social media."
Arianna explained that citizen journalism is so vital because thousands of people on the ground can't be spun by people in power as easily as journalists, tempted by access to power players, can.
"One of the problems of traditional journalism has been the temptations of access, journalists who have access," she said, citing the business journalists who go too close to their sources and missed the financial crisis. "That's why the journalists were supposed to be there, to look beyond what they were being fed by their sources. All of us want not just to make sure that journalism survives but that it gets better, so we have fewer autopsies and more biopsies of what's happening, so we can actually have more red flags about the next financial meltdown."
Arianna added that opening up the journalistic process can only lead to greater truth.
"One thing about that is when you open it up to your readers, your users, you really have thousands of possible eyes out there," she said. "The whole idea of citizen journalism is incredibly powerful and is going to get all the more powerful....the truth is you can always more easily spin a few journalists than thousands upon thousands of people who are on the ground, communicating what they are seeing."
<0--2416--hh>0--2416--hh>