*See screenshots below*

During a visit to Bolivia this week, Venezualean President Hugo Chavez invited Bolivian President Evo Morales and Cuban leader Fidel Castro to join him on Twitter.
Chavez, who has launched vehement criticism of Twitter, calling it a "tool of terror," has only recently changed his mind about the micro-blogging website, which has a large following in Venezuela.
Reuters reports Chavez exhorted the two leaders to join him on the micro-blogging site:
"I invite Evo and Fidel," Chavez said. "Evo - are you on Twitter? Let's invite Evo to Twitter," Chavez said during a visit to a cattle ranch with Bolivia's president.
Although, as AFP reports, only thirty percent of Venezuelans have internet access, the country is home to 200,000 active Twitter accounts. On Tuesday Chavez became one of that number. His account, @chavezcandanga, amassed 106,00 followers in its first two days, according to Reuters.
Chavez's first post (below) translates to "How's it going? I showed up here just like I said I would: at midnight. I'm heading to Brazil and I'm very eager to work for Venezuela. We will be victorious!" [translation via Business Week]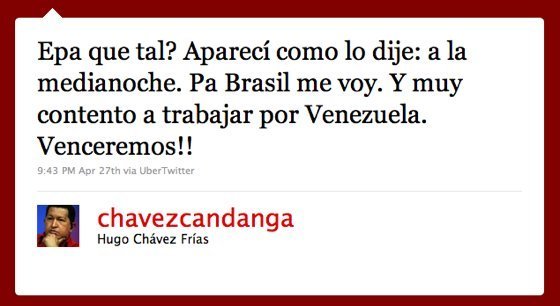 He later met with Morales in Bolivia, where he suggest that Castro and Morales both join Twitter.
In his second Tweet (seen below), Chavez thanks his newfound Twitter following and calls it "an unexpected explosion." [Translation via Reuters]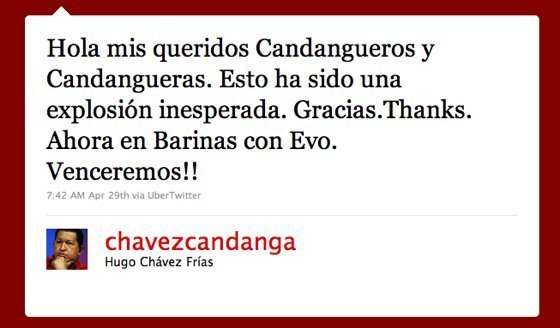 Chavez, who uses a Blackberry to make his Tweets, took to the airwaves Thursday to respond to critics, Business Week reports: "[Twitter is] a connection to the world. This isn't capitalist or socialist, technology depends on how you use it."
Chavez joins other heads of state who have found their place in the Twitterverse. See our slideshow of world leaders who Tweet.