As usual, many Illinois politicians had a rough few days. Below, check out the first installment of Chicago Losers of the Week, and vote on who you think is the week's biggest loser. And check out the Chicago Winners of the Week HERE.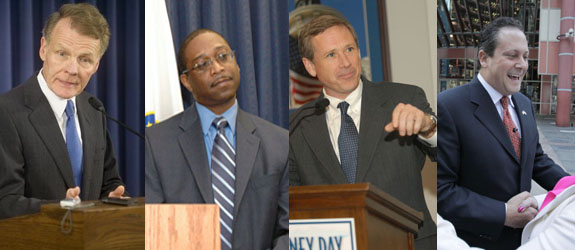 Michael Madigan
House Speaker and Democratic powerhouse Michael Madigan got some seriously bad press this week when a list of favors he called in to the University of Illinois went public. The Chicago Tribune reported that he hooked up donors by getting their kids into school. Politics as usual in Illinois.
Todd Stroger
Lame Duck Cook County Board President Todd Stroger spilled on his shirt, so used a government issued credit card to buy a new one. He gave unapproved raises and redesigned his office when the county is in severe financial trouble. His spending and hiring capabilities have now been restricted by his own board! No wonder he was pummeled in the primary.
Mark Kirk
After flip-flopping on health care reform and cap and trade legislation, Kirk's new indecision rests with BP. After bragging about preventing BP from polluting Lake Michigan, he turned around and cheered for BP drilling in the Gulf. Apparently polluting other people's water is just fine. Oh, then there was the whole being challenged to talk about something OTHER than Broadway Bank thing.
Scott Lee Cohen
Back in the spotlight, gubernatorial candidate Scott Lee Cohen has already made a really bad joke and his son made headlines for underage drinking. It's just the beginning, we're sure.