It turns out Goldman Sachs wasn't the only megabank to have a perfect first quarter.
The bank's traders did not record a loss in any of the 63 trading days in the three-month period ending in March, according to its latest quarterly filing with the Securities and Exchange Commission. Goldman Sachs, the nation's fifth-largest bank by assets, generated revenue of at least $25 million every single day. Its traders made at least $75 million every four trading days out of five.
Not to be outdone, JPMorgan Chase, the nation's second-biggest bank by assets, filed its report with the SEC Monday afternoon and it, too, went perfect for the quarter. Its traders made an average of $118 million every day, or slightly more than $4.9 million every hour.
JPMORGAN CHASE, Q1 2010, DAILY TRADING REVENUES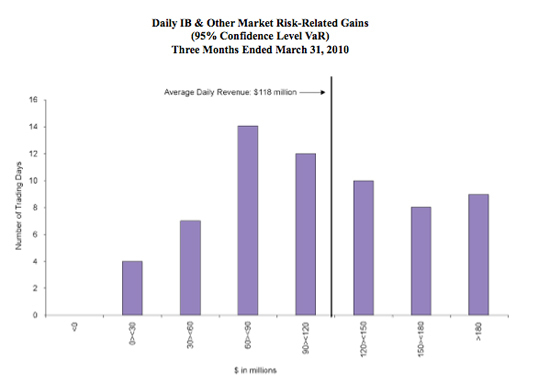 *Source: SEC filings
It turns out, though, that they weren't the first to report a perfect quarter: on Friday, Bank of America told the SEC that its traders, too, batted 1.000 for the quarter.
The nation's largest bank by assets with $2.2 trillion, the firm recorded its first perfect quarter in at least a year, if not ever, according to its SEC filing. Traditionally a lender, the bank was transformed after its 2008 acquisition of investment house Merrill Lynch.
This past quarter, the firm's Global Banking & Markets group made $5.1 billion in trading account profits, according to its SEC filing. Its bond, currencies and commodities traders generated $5.5 billion in revenue, a 16 percent jump from the same period last year.
BANK OF AMERICA, Q1 2010, DAILY TRADING REVENUES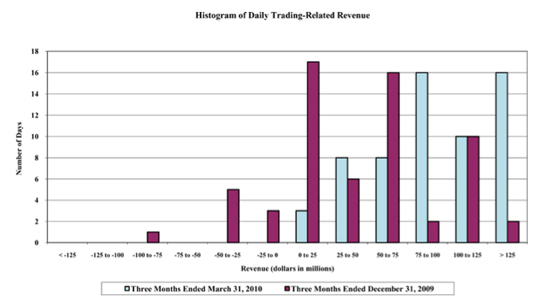 *Source: SEC filings
During 61 trading days, Bank of America's traders recorded revenues of at least $75 million on 42 of them -- a clip of about every seven out of 10 days.
In the fourth quarter of last year, Bank of America experienced losses on nine days, SEC filings show.
BANK OF AMERICA, LAST 4 QUARTERS, DAILY TRADING REVENUES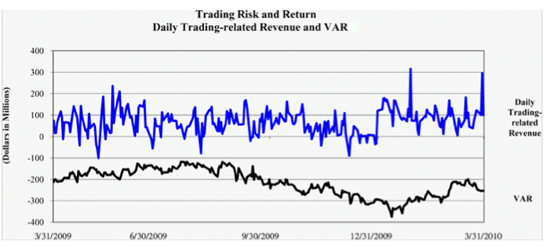 *Source: SEC filings