It may be a rough weekend for some members of the media who are coming off cringe-worthy weeks. Below, check out the Media Losers of the Week, and vote on who you think is the week's biggest loser. And check out the Media Winners of the Week here.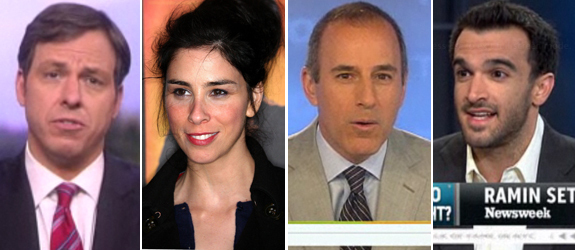 Jake Tapper
Tapper scored points for bringing fact-checking to ABC News' "This Week," which he's hosting on an interim basis until Christiane Amanpour takes over this summer. Unfortunately that hasn't translated into ratings. Last Sunday's program averaged just 2.024 million total viewers, its lowest viewer numbers since July 2, 2006.
Sarah Silverman and Wanda Sykes
It was a bad week for these two female comedians -- and their fans. Silverman's Comedy Central show and Sykes' late-night Fox show were both canceled. Neither move came as a complete shock -- Silverman's show was bumped to an undesirable time slot last season, and Sykes' ratings never quite took off.
Matt Lauer
The "Today" show host was forced to deny reports this week that he moved out of his house after his wife accused him of having affairs during the Winter Olympics in Vancouver. Even though his side of the story is believable, he stayed silent for almost two days while the rumors gained traction, which didn't help the family man image his female viewers have grown to love. And now MarketWatch's Jon Friedman is even considering who should replace him on the "Today" show, lobbying for CNBC's Erin Burnett to take Lauer's chair.
Ramin Setoodeh
The Newsweek writer has taken heat for his article saying that gay actors aren't believable in straight roles. Actors including Kristen Chenoweth, and the creator of "Glee," Ryan Murphy, have called for a boycott of the magazine over Setoodeh's article, and GLAAD has demanded an apology from the magazine. The openly gay writer has also received threatening emails, anonymous phone calls, and what he described as a "creepy letter" to his home. He's been defending himself in a series of TV appearances since.