Who won the week -- and who earned a weekend off? It was a great week for some members of the media...but not all. Below, check out the Media Winners of the Week, and vote on who you think is the week's biggest winner. And check out the Media Losers of the Week here.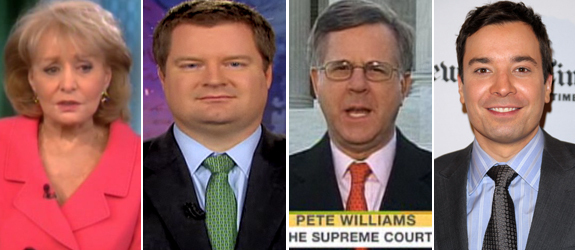 Barbara Walters
The "View" creator captured the national attention -- yet again -- with Monday's announcement that she'd be undergoing surgery to replace a heart valve. The surgery -- which "went well," doctors say -- generated an outpouring of support and goodwill for the 80-year-old TV personality, and reminded everyone how much they'll miss her, should she ever retire from ABC.
Erick Erickson
Ever since he was named a CNN contributor, the conservative blogger has faced a barrage of criticism over controversial statements he's made (such as threatening to take a shotgun on a census worker or calling Supreme Court Justice David Souter a "goat f**king child molester"). But this week, he was the subject of a positive profile in the New York Times, which said he takes heat from both sides of the aisle and even quoted liberal blogger Jane Hamsher, who called him an "honest broker."
Pete Williams
NBC News' Chief Justice correspondent broke the news every reporter on his beat knew about but couldn't verify: President Obama was going to nominate Elena Kagan to the Supreme Court. Even Mike Allen's prediction that the White House would leak the news to the Associated Press didn't stop Williams from getting the scoop.
Jimmy Fallon
Need proof that Fallon's grown into his "Late Night" hosting role on NBC? There's already speculation that the network is grooming him to take over the "Tonight Show," should Jay Leno ever allow anyone else to host the program. The New York Post's Cindy Adams wrote this week that Fallon was "personally, perfect," "a company man," "professionally, perfect" and "middle of the the road" — all qualities that make him an ideal pick for for the "Tonight Show" hosting slot.