It's been a long week. Maybe the week felt longer because we were counting down to the long weekend, or because we have no idea how our state leadership is going to keep our economy afloat. In any case, we are glad it's over! And with looking on the bright side in mind, we bring you the people who won in Chicago this week. We've got a fresh (and not so fresh) crop of losers as well. You can find them here.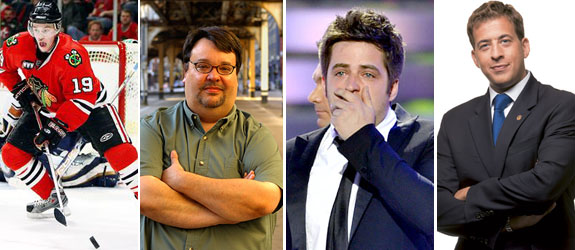 Lee DeWyze
Mount Prospect native and former paint salesman Lee DeWyze had a good few weeks in Hollywood. Whether or not you like "American Idol," a good paint sales to celeb story is always inspiring.
Alexi Giannoulias
Following his opponent Mark Kirk's disappointing vote on "Don't Ask, Don't Tell," Giannoulias scored an endorsement from the Human Rights Campaign Friday. Giannoulias has been a vocal supporter of the gay community, and now they are vocally supporting him. More good news for Giannoulias' senate campaign came earlier this week, when they announced that U.S. Education Secretary Arne Duncan and White House Deputy Chief of Staff Jim Messina will travel to Illinois to campaign for him.
The Chicago Blackhawks
Following the longest Stanley Cup drought for an Original Six hockey team--the Blackhawks are back. After sweeping the San Jose Sharks, the Hawks will host the Philadelphia Flyers in Game 1 of the Stanley Cup finals on Saturday night. Their winning streak has been a breath of fresh air for Chicago sports fans dealing with two losing baseball teams.
Vocalo.org

The lovely and talented people who run Chicago Public Radio (WBEZ) launched Vocalo as a way to connect with listeners and create a more open dialogue with the general public. Aside from having quality programs on air, their new blog lineup is pretty impressive. Longtime music critic for the Chicago Sun-Times, Jim DeRogatis, recently left the paper for a gig at Vocalo, and author and media activist Anne Elizabeth Moore just joined the crew as well. They also have the most in-depth coverage of the Jon Burge trial by the man who basically made the case public knowledge in the first place--John Conroy. Good people, good ideas.