Chicagoans are loyal, and many of us could be a little obsessive when it comes to the city we love. Some choose to live here for life, and others need more--like a tattoo.
While we have seen Chicago flags, maps, skylines and tattoos of pretty much every Chicago sports team, local artist Jeremy Scheuch's latest piece is as original as it gets (photo from Bethany Cisco):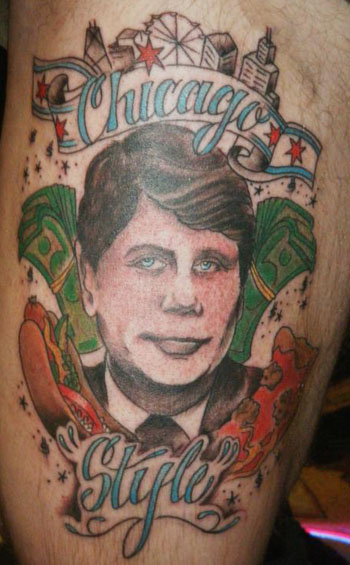 Yes, that is former Governor Rod Blagojevich. And a Chicago style hot dog...and some sausage pizza.
Scheuch sent some photos of his new body art to Chicagoist, who can tell you more about his work here. He got the tattoo last night--just after opening statements wrapped up in the Blagojevich corruption trial.
Bethany Cisco of Tattoo Factory in Uptown did the piece.
Do you have a Chicago tattoo we should see? Send a photo to chicago@huffingtonpost.com and we will feature it in a Chicago tattoo slideshow. Let us know who your artist is as well!