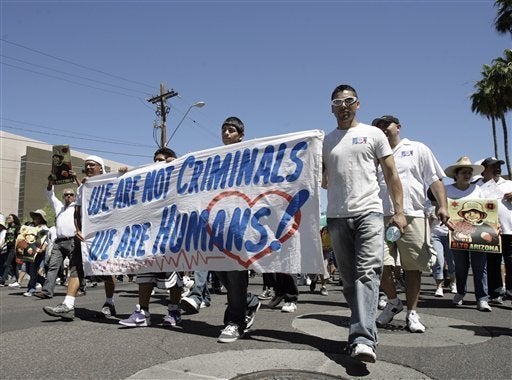 Arizona's controversial new immigration law may be prompting a mass dispersion of Hispanics -- both legal and illegal -- from the state. Though enforcement of the harsh law isn't set to begin until the end of July, reports from state and local officials show that the new measure may already be taking its toll on Arizona's Hispanic population.
Schools in Hispanic areas report unusual drops in enrollment. The Balsz Elementary School District is 75% Hispanic, and within a month of the law's passage, the parents of 70 students pulled them out of school, said District Superintendent Jeffrey Smith. The district lost seven students over the same one-month period last year, and parents tell Smith the Arizona law is the reason for leaving.

[...]

Businesses serving the Hispanic community say business is down, signaling that illegal immigrants are holding on to cash in anticipation of a move from the state, said David Castillo, co-founder of the Latin Association of Arizona, a chamber of commerce for nearly 400 first-generation Hispanic business owners.
But the reports out of the state don't yet serve as a comprehensive analysis of population numbers, and some say that the recent outflow of Hispanics from Arizona may just be the latest in a trend that has shown diminished immigration numbers and increasing departures from the state due to the poor economy over the past few years.
"The economy is always the primary factor in determining migration flows," Professor David Gutierrez of the University of California San Diego told the Christian Science Monitor. "It might appear as if these laws are turning back demographic tide in Arizona, but economic forces are a much more important aspect of that development recently."
Jeffrey Passel of Pew Hispanic Center tells the Christian Science Monitor that there has been a 40 to 45 percent drop in immigrants entering the US from Mexico in the past two years. This trend appears to extend to illegal immigration too, as border apprehension numbers have dropped by 25 percent over the same period.
The Department of Homeland Security reported that more than 100,000 illegal immigrants left Arizona in 2008 after the passage of a 2007 law that enacted harsh penalties on businesses that hired them.
Paul Senseman, a spokesman for Arizona Gov. Jan Brewer, told USA Today that he'd heard similar reports of Hispanics leaving the state, but wasn't necessarily willing to explain such withdrawals as a reaction Arizona's new immigration law.
Instead, Senseman told USA Today, "[if] that means that fewer people are breaking the law, that is absolutely an accomplishment."