This past weekend, the G-20 leaders and some of their spouses met in Toronto, where Canadian Prime Minister Stephen Harper and his wife Laureen's played host.
On Saturday night the Harpers welcomed the leaders for a working dinner while the spouses dined separately.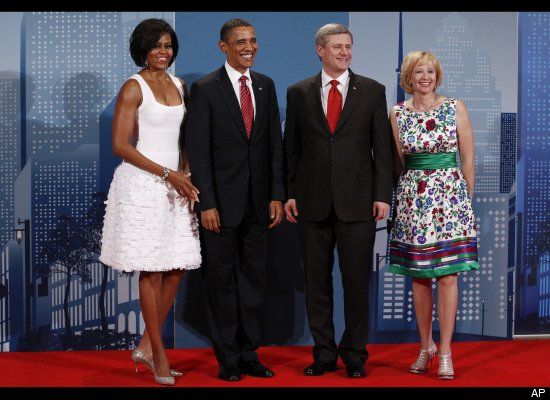 Carla Bruni stayed home this time, and the charismatic Miyuki Hatoyama has been replaced by Japan's new first lady Nobuko Kan. However, Michelle Obama brought the glitz and glamour with a white Azzedine Alaia dress and vintage costume jewelry from a Toronto company called N&N Vintage. She wore glittery kitten heels.
Canada's Laureen Harper wore her blond hair in a bob that was almost identical to Michelle Obama's, along with a pretty floral pattern silk dress, and metallic high-heeled sandals.
SEE THE COMPLETE G-20 BEST-DRESSED FIRST LADIES SLIDESHOW AND CLOSE-UPS OF MICHELLE OBAMA AND LAUREEN HARPER HERE.
On Friday afternoon Mrs. Harper led some of the spouses on a visit to Famous People Players Theater in Toronto. Michelle Obama wasn't able to make it.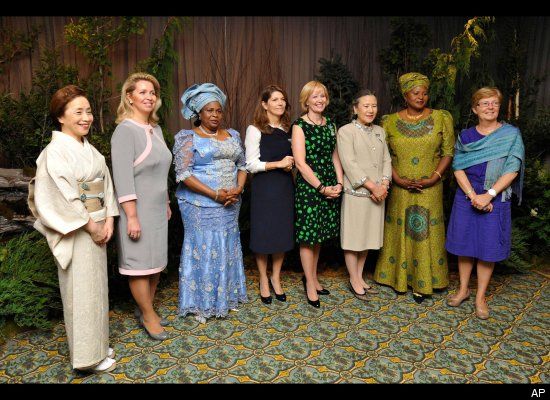 The last time we saw Michelle Obama at a G-20 Summit was when she and the president hosted one in Pittsburgh last September.
It was the first lady's first time playing international hostess, and she did it with aplomb. Wearing a Thakoon cocktail dress and long strand of pearls, she welcomed the other spouses to a dinner of local food at Teresa Heinz Kerry's Rosemont Farm.
The lively guest list for that event included first lady all-stars, such as France's Carla Bruni and then-Japanese first lady Miyuki Hatoyama.
The festivities continued the next day, when the spouses enjoyed performances by Yo-Yo Ma, Trisha Yearwood, and Sara Bareilles, and a trip to the Andy Warhol Museum. These well-attended events were turned into a veritable first lady fashion show and an opportunity for a charming group photo.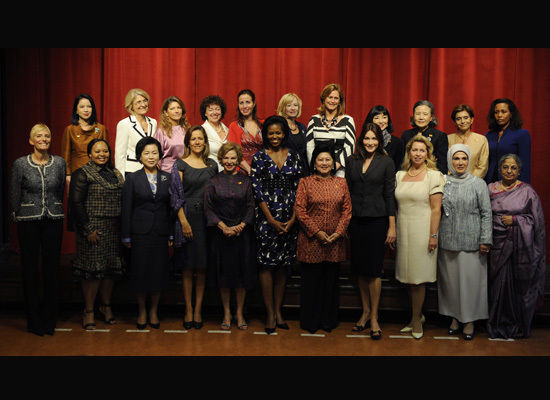 Click here for a slideshow of the leaders and spouses in attendance at the Toronto summit.