Mention the United Service Organizations -- almost universally known as the USO -- to most Americans, and the first thing you'll likely hear is "Bob Hope." The USO is eager to alter that image. Not that organizing performances for the troops isn't an integral part of their mission, but the expansive programs and services they provide does so much more than entertain.
Through Independence Day, HuffPost Impact is running a series of stories called "Breaking the Roles," highlighting the servicemen and women of our armed forces who don't typically see the media spotlight, and the remarkable work of the USO, who are tireless in their efforts to support all who defend our country.
Dave Gatley wasn't always an army photojournalist, but his involvement with the U.S. military goes back decades, to when he was a young computer programmer with the Rand Corporation. He worked for the Los Angeles Times for 20 years, and has done freelance photography for nearly every major newspaper in the country. His most gratifying work, however, comes on his tours with the USO to visit servicemen and women serving in Iraq, Afghanistan and around the world.
"It takes a big team to do what we do, and I'm a small cog in that wheel, but happy as I can be to professionally put a face on all that I see. I'm a visual storyteller, and this work is a storyteller's dream."
When I spoke to him last week, his focus was on his two passions: photography and the military. He grew up in San Diego with "navy brats" for friends. He thinks of his upcoming book on Navy SEALs as a potential career highlight, despite having his work published in over three dozen books.
Though he's often flown into war zones, Gatley's projects with the military are far more joyous than one would expect. For a man who covered the Columbine shootings, the San Ysidro McDonald's massacre and a devastating earthquake in Mexico City in 1984, the troops are a welcome sight, and certainly among the most gracious photo subjects.
"It's some of the most rewarding work I've done," he said. "It doesn't matter what your position is on the war. These young men and women put their careers and lives on the line."
Though he always feels that it's him who should be the most thankful, he's amazed at the response someone like him gets from the troops -- even when there are major celebrities around.
"They are falling over themselves thanking you, thanking me. I keep trying to defer them to the talent. It's not me. We're doing what we can to try and get them out and break up the job they're doing, but you can see the effect in their faces, the appreciation in their faces."
Soldiers meeting San Francisco 49ers tight end Vernon Davis. Photo by Dave Gatley.
I asked him about stories that had affected him over the years. He barely hesitated.
In Afghanistan, Gatley, country singer Toby Keith and some other USO workers were at a hospital in the ER recovery room. Gatley was waiting, talking to Keith, taking photos. Then the door opened and they all looked up.
"A gentleman was just coming out from under the intoxication from the drugs," he said. "I don't remember if he'd lost a limb, but it was a serious operation, a serious wound. Toby was the first guy by his bed as he was coming out of this groggy thing. The first forced words out of this man was, "How are my men?" He didn't care about himself, didn't care about who Toby was. He was only concerned about his men."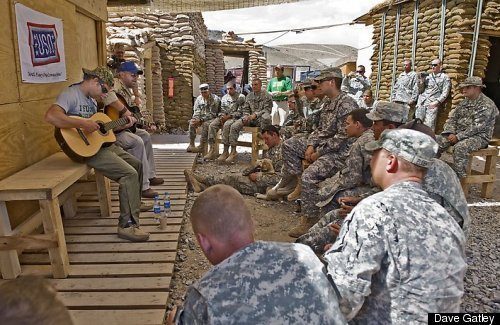 Toby Keith plays for soldiers in 2008. Photo by Dave Gatley.
Gatley is certainly a journalist first and foremost, but it's hard to stay unbiased in emotional moments like this. "There wasn't a dry eye in that room," he said.
Respect for the volunteers and photographers is tantamount to that provided the performers. Gatley expressed amazement at how the troops consistently show "appreciation for what [the USO] is doing."
They'll often ask volunteers on the tour for photos and autographs, even around some of the more distracting performers: someone like Scarlett Johansson.
"Come on, what guy wouldn't want a picture with Scarlett Johansson?" he asked rhetorically.
Before speaking to Gatley, I had no idea that Johansson -- or Ben Affleck, Dave Attell, Lewis Black, Kellie Pickler, Brad Garrett or Robin Williams -- went overseas to meet the troops. In fact, it even took a little digging on USO.org to find information on some of their celebrity tours.
Despite managing a section on volunteering and giving back, it's still hard to read the myriad press releases we receive daily featuring the latest teen idol or struggling TV star and not get a little cynical. What Gatley told me about "the talent," as he referred to them, was different. These visits are rarely on cable news and don't often get regular attention in print (nor, to be fair, on HuffPost). It would be hard for even the most cynical among us to discount the efforts of anyone volunteering to put themselves in harm's way, be it photographer, celebrity, soldier or otherwise.
"I love what [the USO] is doing both domestically and internationally. Domestically it involves more families. But what we do down range is gigantic -- in my mind, really rewarding work. It's hard to put a value on that. Professionally, I've got great pride in what I'm doing. I'm happy as hell in what I'm doing."
Make a donation to the USO today and support those who have sacrificed to protect the U.S.