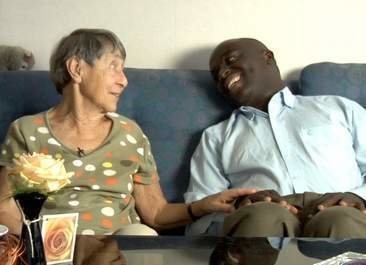 Chris Mburu feels fortunate to have received an education at all. Growing up in a mud house in Kenya, it seemed unlikely that him or his neighbors would escape a cycle of poverty. Today, Mburu is a Harvard Law School graduate and works as a human rights advocate for the United Nations.
This all became possible because of the simple generosity of an elderly Swedish woman named Hilda Back. She gave $15 a month to sponsor Mburu, allowing him to go to grammar and secondary school.
This inspiring story is the subject of a new documentary directed by Jennifer Arnold, A Small Act. The film chronicles the first meeting between Mburu and Back, when the 85-year-old is flown to Kenya.
As Roger Ebert writes in his three-and-a-half star review of the film, "[Back] says that her $15 was an insignificant sum to her, but she kept it up because she thought even a small act was worth performing." He calls the film "heartwarming."
TakePart.com's Caroline Keichian interviewed director Arnold last year. Arnold told her that she hopes the film encourages people to take small actions however they can. "It can be something simple, like donating toward a cause, or a bigger commitment to bringing about change...It doesn't take much -- just do something."