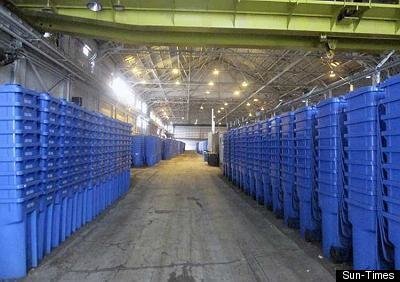 If you live in Chicago, chances are you have been irritated by the city's lack of a decent recycling program.
Some folks sneak across the street (into a different ward) to drop their recycling into a neighbor's blue bin, and others have scrapped the idea of recycling all together.
"To me, it's surprising that Chicago claims to be so green yet recycling is so difficult," Lincoln Park resident Kelly Bohnet told the Chicago Red Eye last year. And, despite the efforts of some aldermen, not much has changed.
As the Chicago Sun-Times reported Friday, nearly $1 million in unused blue recycling carts are sitting in a South Side warehouse, and as Mayor Daley's administration acknowledged having a stockpile of "roughly 22,000 carts" in the warehouse--Streets and Sanitation employees say the number is much greater.
Why all the unused recycling carts? The Sun-Times shares a brief history:

Two years ago, Chicago gave up the ghost on blue-bag recycling after more than a decade of failure. Under that system, residents were told to put their recyclables in special blue bags that were picked up by regular garbage crews.

By the end of 2011, City Hall declared that every one of the 600,000 Chicago households with city garbage pick-ups would make the switch to suburban-style curbside recycling from blue carts, which are emptied by separate crews. The expansion has since ground to a halt.
Ald. Joe Moore, who pushed to expand the blue cart program months ago, estimates that less than ten percent of the waste collected during the blue bag years was actually recycled.
Now, as he wrote in his Huffington Post blog in June, "only about a third of those households get Blue Cart recycling, with more than 400,000 households slated to receive it at some ill-defined point in the future."
Daley blamed the city's economic situation for the halted program, and told the Sun-Times last month that he was exploring the possibility of privatizing household recycling. The move would reportedly shave up to $40 million off the $60 million annual cost.
Moore calls the excess of blue carts "embarrassing" and a "colossal waste of money."
Streets and San spokesman Matt Smith had a positive outlook on the cart stash:
"Having these carts on hand also will give us more freedom to look at expanding this program in the future if the economy eases," Smith told the Sun-Times.
Until then, we will be lugging our bottles and cans to the alley across the street.