Yesterday, we noted the emergence of "Mothers Against McMahon," which repeated criticism of prospective Connecticut GOP Senate contender Linda McMahon that was previously lobbed by her Republican rival, former Congressman Rob Simmons. Well, lo and behold, today we have new rumblings that Simmons's suspended primary campaign may be unsuspending itself in the not-to-distant future. Let's check in with the Hartford Courant's Rick Green, blogging at CT Confidential:
The former CIA operative and member of the House of Representatives tells me it's looking more and more like he will revive his dormant campaign for Republican nomination for the U.S. Senate.

"I haven't made any final decisions,'' Simmons told me Wednesday afternoon. "I'm getting a lot of phone calls from people. Six weeks ago the convention was over and I was very disappointed. My staff was despondent. My family was stunned."
Simmons goes on to remind that he "never said I'd get off the ballot," and that he's giving the matter some thought: "I'm trying to think about what's right what's honest and what's decent."
When Simmons lost out at the state convention, the conventional wisdom was that party backers opted for McMahon on the strength of her ability to fund her own campaign. But Simmons remained a compelling candidate in the race because his own service record provides an inroad for Simmons to go after Democratic contender Richard Blumenthal at his most -- perhaps his only -- point of vulnerability: past statements in which he overinflated his Vietnam service.
Simmons's decision to run silent, of course, is a pretty inexpensive way of running against McMahon, thus neutralizing her greatest strength. It doesn't hurt that he's actually gained ground in the polls since he suspended his campaign. If the tactic puts him at a disadvantage, it's that the suspension doesn't help Simmons combat the fact that voters don't know enough about him.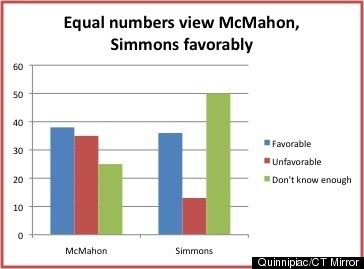 At the same time, Simmons can't be sweating that wide advantage he enjoys in unfavorablility ratings.
McMahon's been keeping a peep over her shoulder ever since Simmons went dark and has long been concerned that he's been running a "stealth campaign" against her. Events of the past 48 hours aren't likely to do much to alleviate these fears.
RELATED:
Rob Simmons Jumping Back In Senate Race? [CT Confidential]
PREVIOUSLY, on the HUFFINGTON POST:
Linda McMahon, CT Senate Candidate, Slammed By Mothers Group Over WWE Past (VIDEO)
[Would you like to follow me on Twitter? Because why not? Also, please send tips to tv@huffingtonpost.com -- learn more about our media monitoring project here.]