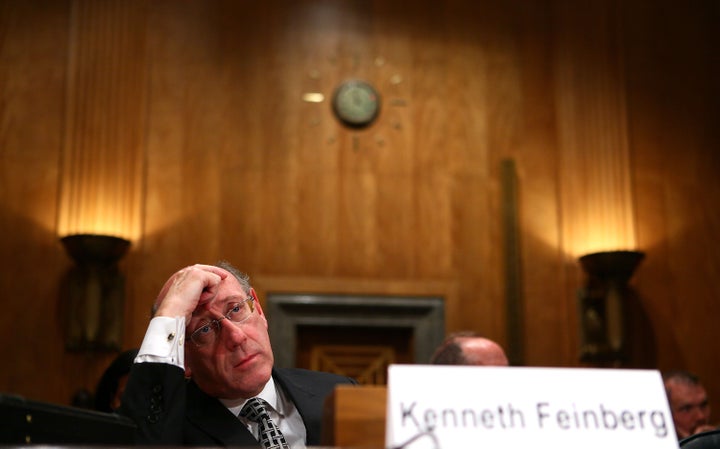 The federal overseer entrusted with investigating Wall Street pay has declined to take action, arguing that the public wouldn't be served by going after $1.6 billion that 17 financial firms doled out to their employees in the five months after taxpayer bailouts began in the fall of 2008.
Among other duties, Congress granted Kenneth R. Feinberg, the Obama administration's "pay czar," the legal authority to attempt to recover excessive compensation that may have been contrary to the "public interest."
Though acknowledging the massive payouts were "ill-advised" and exhibited "bad judgment" -- some bankers were paid more than $10 million, he said -- Feinberg refused to rule that any of the massive payouts went against the public interest.
"As a matter of fairness, to label these payments years later as contrary to the public interest, with all the consequences that might roll from that?" Feinberg asked. "No, I don't think that would be right."
Asked what consequences could arise from recouping public funds, Feinberg replied:
"The consequences might be lawsuits, private lawsuits -- a huge threat if I made that finding. Congress might very well be more willing to intervene if there was such a finding. This might go on. There might be a new chapter. There still might be a new chapter -- I don't know.
"But I'm trying to minimize the likelihood that today's decision will trigger another round now of investigations and litigation. I've tried to strike that balance."
That balance Feinberg struck means bailed-out bankers get to keep their loot while taxpayers are left holding the bag.
The 17 firms are American Express, AIG, Boston Private Financial Holdings, Capital One, Bank of America, CIT Group, Citigroup, JPMorgan Chase, M&T Bank, Morgan Stanley, Regions Financial, SunTrust Banks, Bank of New York Mellon, Goldman Sachs, PNC Financial Services, U.S. Bancorp, and Wells Fargo.
The group represents 15 of the 32 biggest banks in the country, including the six biggest, Federal Reserve data show. AIG was once the world's largest insurer. Boston Private Financial Holdings has less than 1,000 employees.
Feinberg reviewed the pay of the top 25 executives at 419 bailed-out firms. He decided to focus on those 17, as they doled out $1.6 billion of the $1.7 billion in questionable pay. After speaking with the firms, Feinberg issued a set of voluntary recommendations. One of them was for firms to restructure their pay practices so employees wouldn't be guaranteed payouts if their firms faltered.
Feinberg said banks told him that they had to pay out such huge sums because they were contractually obligated to. Feinberg thinks firms should be free to restructure or even cancel those contracts. The banks told him they'd take his recommendations "under advisement."
That money "is just the tip of the iceberg that needs to be recouped from Wall Street," said Stephen Lerner, who directs the bank and financial reform campaign for the Service Employees International Union (SEIU). The SEIU has 2.2 million members, according to its website.
"This is a lead-in to a bigger problem," Lerner continued. "We've got pension funds that lost hundreds of billions of dollars. We've got cities and states that are having to lay off firefighters because they got stuck in bad deals with Wall Street. It's critical that we recoup...that money."
Told that Feinberg said he wanted to minimize the amount of new litigation and investigations, Lerner said that Feinberg's findings "open a Pandora's box of why there aren't bigger investigations, why there isn't more litigation, and why there aren't more efforts to recoup [Wall Street's] ill-gotten gains.
"The notion that we can wash our hands and say everything is fine now is crazy," he added.
Feinberg said that of the 17 firms, 11 had fully repaid their TARP money, plus interest. That factored into his decision over whether to crack down on the banks.
"I think we did our best here at Treasury in balancing second-guessing, armchair-quarterbacking with a statutory mandate to seek reimbursement in appropriate cases," the pay master said. "With Congress providing not much guidance on how to take a look at these companies," he added. "I am very comfortable with our findings.
"As to the remaining 17 [firms], I point with a great deal of pride that 11 of them have already reimbursed the taxpayer. I mean, I really do think that is the best example...of the wisdom of TARP and how these companies were saved by the taxpayer," Feinberg said.
He added that "we all move forward with lessons learned and that we put this sad chapter behind us and look forward."
*************************