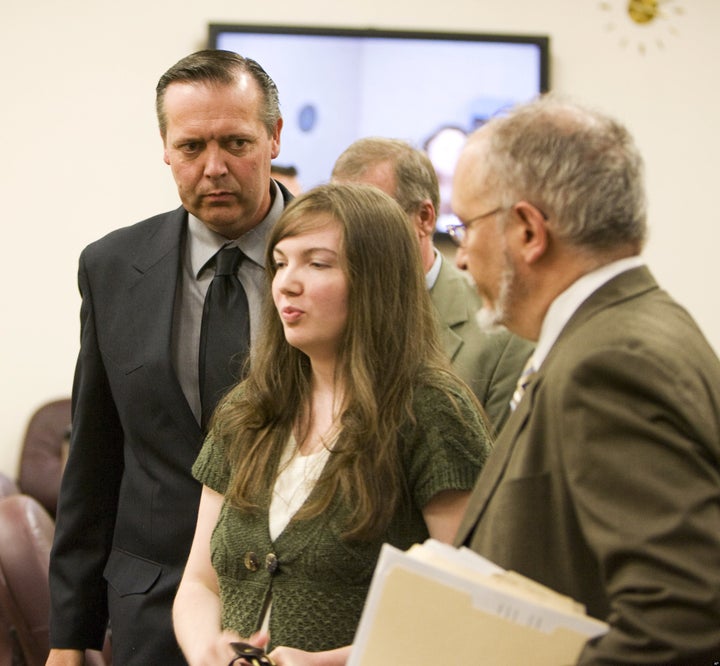 By Steve Mayes / The Oregonian
Religion News Service
OREGON CITY, Ore. (RNS) Two members of a controversial faith-healing church were charged Thursday (July 29) with first-degree criminal mistreatment for failing to provide medical care for their infant daughter.
Timothy and Rebecca Wyland pleaded not guilty during a brief appearance before Circuit Judge Robert D. Herndon and were released without bail.
The charges were expected. During a custody hearing last week, a prosecutor disclosed that the Wylands had been indicted by a grand jury.
Child-protection authorities took custody of the couple's 7-month-old daughter, Alayna, after she developed a growth over her left eye that ballooned over several months to the size of a tennis ball and threatens her vision.
Rebecca Wyland previously testified that she anointed Alayna with oil but never considered taking her daughter to a doctor.
Prosecutors asked the judge to impose a no-contact order that would limit the Wylands to supervised visits with Alayna, but officials are expected to work out an agreement that would allow the girl to return home.
Another judge involved in the case, Douglas Van Dyk, had previously indicated that he would like to see the family reunited, providing there are safeguards that assure the girl continues to receive medical treatment.
The girl is in temporary custody of the Oregon Department of Human Services and lives in a foster home while medical professionals treat her condition and develop a care plan. The child welfare agency placed the girl in protective custody June 30 after receiving an anonymous tip that she was in peril.
Doctors who have examined the girl said that without treatment, she could lose sight. Alayna's condition has improved since she started treatment, and Rebecca Wyland's attorney has said "there is no blindness."
The Wylands are members of the Followers of Christ, a congregation that rejects doctors and favors spiritual treatments such as anointing with oil, prayer and laying on of hands.
Timothy Wyland's attorney, Mark Cogan, filed a motion to disqualify Judge Steven L. Maurer from hearing the case, saying he could not provide a "fair and impartial hearing."
Maurer presided at trials involving other members of the Followers of Christ--Carl and Raylene Worthington and Jeff and Marci Beagley--who were charged with failing to provide care to their children. The children, 15-month-old Ava Worthington and Neil Beagley, 16, died from untreated medical conditions.