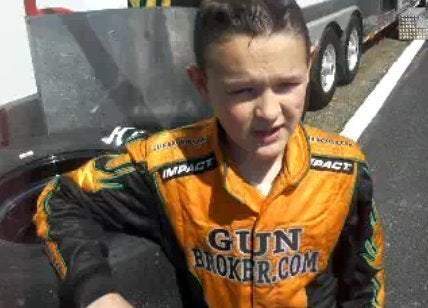 Gray Gaulding, a 12-year-old known for being an up-and-coming NASCAR star, has an interesting sponsor: Gunbroker.com, an online handgun distributor.
The web site promises "the world's largest online auction of firearms and accessories" and offers access to a range of weaponry in addition to guns, including knives and swords. Other services, such as taxidermy and safari planning, are also available. No mention of the preteen driver is found on the site's frontpage.
Gaulding is the youngest driver in the NASCAR Legends Division and has won $20,000 this year. A winner of ten races, Gaulding has been racing since he was three years old and loves the attention.
"Some people say that I have too much camera," Gray said. "But there's never too much of the camera, because you never know who's watching."
Dwayne Gaulding, Gray's father, negotiates his sponsorships and told CBS, "There ain't no other sponsor come along I feel comfortable with." Scroll down to watch the video.