We're all familiar with the precocious offspring of business dynasties-- think of the the scions of the Houses of Trump, Hilton and Newhouse. But look around the ranks of corporate America's most prominent execs and you'll also find a wealth of self-generated wealth.
For those who think the economy has stalled and America's becoming less equitable, there's no shortage of Horatio Alger stories among top-flight execs. Humble beginnings, dogged dedication and any number of strange jobs highlight the early years of more than a few CEOs.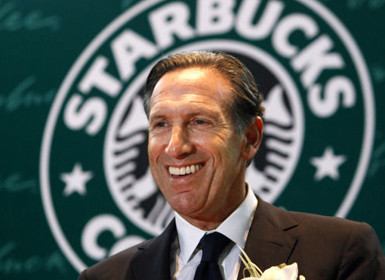 The most notable self-made CEOs have figured out a way to make their early experiences into business success. Starbucks CEO Howard Schultz, grew up in a cramped two-bedroom apartment in New York City and watched his father lose his delivery job after breaking his ankle. Years later, Starbucks would become one of the first companies of its kind to offer even part-time employees health insurance. His goal: build a company his dad would have wanted to work for.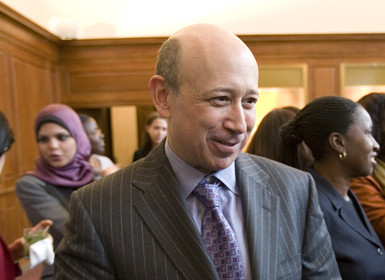 Lloyd Blankfein, the head of one of Wall Street's most profitable firms, Goldman Sachs, is a Brooklyn native, who learned the value of a dollar "three cents at a time carrying trays of soda at Yankee Stadium." Blankfein earned a full scholarship to Harvard, entered Harvard Law and the rest is history.
In Photos: 'Rags To Riches' -- Self-Made CEOs Who Started With Nothing
Lowly -- or even desperate -- beginnings didn't stop Roman Abramovich from rising to the top of Russia's business elite. Abramovich's entrepreneurial streak was evident during his days in the Russian army, where he reportedly sold stolen gasoline to commissioned officers. He later turned a small wedding gift from his in-laws into a thriving, if ad hoc, business, and even sold plastic ducks from his home. Within a decade, he'd established himself as a bona fide energy tycoon, with controlling a interest in the Russian oil giant Sibneft. Abramovich now was a net worth of $11.2 billion.
For many of these industrious execs, big gambles have paid off. John Paul Dejoria, the founder of John Paul Mitchell Systems, the maker of the ubiquitous line of salon products, twice found himself homeless but persisted anyway. A fateful trip to perform in Los Angeles was make or break for Guy Laliberte, the founder of the Cirque du Soleil empire -- he didn't have enough money for the trip back to his native Quebec.
In case you're wondering, both Dejoria and Laliberte are now billionaires.