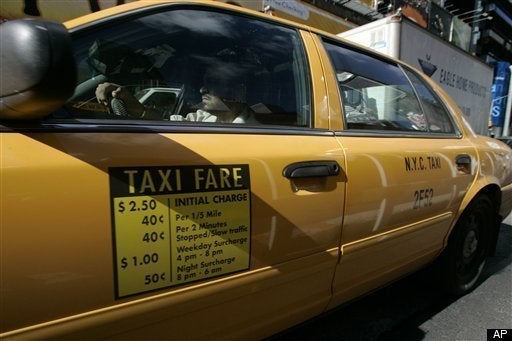 *SCROLL DOWN FOR UPDATES*
Michael Enright is not who you'd expect him to be.
The man accused of stabbing New York City cab driver Ahmed H. Sharif after asking him if he was a Muslim does not fit the normal profile of hate crime perpetrator.
"Assalamu alaikum -- consider this a checkpoint," Enright is alleged to have screamed before slashing Sharif "across the neck, and then on the face from his nose to his upper lip."
Had the cuts been any deeper or longer, an EMT said, Sharif would have died.
As new details emerge about Enright's alleged attack, his background is also coming into focus.
Enright is a film student at the School of Visual Arts in Manhattan. He also works with Intersection International, a left-leaning organization that's come out in favor of the proposed Islamic Center near Ground Zero.
Enright was recently in Afghanistan, working on a documentary on a Marine unit that his high school friend served with.
Scroll down to see a trailer for the film Enright was working on, as well as a video he made for Intersection International.
UPDATE: Intersection International has released a statement saying they are not sure if this Michael Enright is the same Michael Enright who volunteered with the organization:
We have learned about an incident wherein one of our volunteers may have been charged with a hate crime in a stabbing incident that involved a New York City cab driver on Tuesday evening.

The alleged perpetrator is not an employee and has never been an employee of Intersections. There is a person who fits the description of the alleged perpetrator who has worked with us as a volunteer, but until we get further confirmation of the details in this incident, we cannot comment.

Our hearts go out to the cab driver, his family and any person who has dealt with such unacceptable violence.

Intersections is on record, explicitly and consistently, as promoting interfaith dialogue and cross cultural cooperation, specifically with our Muslim brothers and sisters. We deplore violence and any act that may be categorized as a hate crime.

Our thoughts and prayers are with all parties in this tragic incident.
I spoke today with the taxi driver who was stabbed last night in an attack that appears to have been motivated by anti-Muslim bias. I assured him that ethnic or religious bias has no place in our city, and to help show that, I invited him to City Hall to meet with me tomorrow, an invitation he accepted.

This attack runs counter to everything that New Yorkers believe, no matter what God we may pray to. I want to thank the men and women of the NYPD for their quick response in apprehending the suspect who was arrested and charged with attempted murder as a hate crime. We will continue to do everything possible to crack down on any crime that targets someone because of who they are or what they believe.