So what's next in the Florida Senate race? Can Democratic nominee Kendrick Meek convince Florida Democrats to abandon Republican-turned-independent Governor Charlie Crist? And does Crist have a path to victory?
The current polling snapshot can help us understand the challenges that each face, but perhaps more than in any other Senate race, the horse race polling numbers here are potentially volatile and subject to change. This race is definitely one to watch.
The tabulations that pollsters have produced by party are, for now, the most important. I averaged the vote-by-party results reported for the general election by four pollsters, Ipsos Public Affairs, Mason-Dixon Polling & Research, Public Policy Polling (PPP) and Quinnipiac University (my tabulations do not include results from the Rasmussen poll conducted last night and released earlier today, mostly because they did not provide complete results by party for non-subscribers, but the numbers they reported are generally consistent with those below).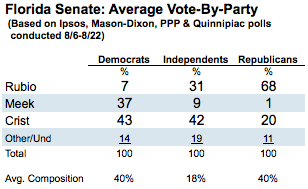 The by-party-numbers show that Meek faces a huge challenge: Crist leads Meek narrowly among Democrats (42% to 37%), while Crist wins a greater share of the vote among Democrats (42%) than among Republicans (20%). Meanwhile, Meek trails Rubio among independents by 22 points (9% to 31%)
The numbers also demonstrate the difficulty Crist will have growing his current support (and keep in mind that Crist trailed Rubio narrowly overall on three of the four surveys). Self-identified independents are a relatively small portion of the likely Florida electorate. In the four polls I looked at 18% of the voters, on average, identified as independent, and Crist is already winning 42% of their support. Thus, even if he can somehow boost his support among independents to 60%, it would add just 3 percentage points to his overall total.
Meanwhile, Meek's obvious strategy is to win over Democrats, fast, and his campaign is wasting no time touting Meek as "the only real Democrat" and reminding reporters of the many conservatives stands Crist took until days before abandoning the Republicans earlier this year. And that strategy also works for Marco Rubio, who joined Meek in pounding Crist this week for not saying who he plans to vote for for majority leader.
All of this, as Politico's Martin and Burns put it, "leaves Crist in the position of having to perform Houdini-like marvels of contortion to find a large enough space in the political middle to keep his independent bid on track."
Not surprisingly, both the Meek and Rubio campaigns agree that "political gravity" will work in Meek's favor. But can Meek really rally from a distant third to challenge Rubio? In a public memo, Meek campaign manager Abe Dyk argues that he can:
With Republicans coalescing around a Tea Party candidate, and Democrats with Kendrick, the math does not exist to elect Charlie Crist. With an expected turnout of 43% Democrats and 40% Republicans, Kendrick needs to win 75% of registered Democrats and just 17% of the registered Independent vote to secure 35% of the vote total. 35%-40% is all that is needed to win in a three-way race.
That math strikes me as a bit optimistic, first in assuming that Democratic voters will outnumber Republicans in Florida this year,** and second in assuming that a candidate can win with less than 40% of the vote while also assuming that Crist's support among Democrats will collapse. But that's mostly quibbling: To run even with Rubio, Meek will need to close the gap among independents and win a percentage of Democrats that is at least as high as Rubio's percentage among Republicans. So whether Meek's goal among Democrats is 75% or 80%, it's a tall order. Can Meek really double his support among Democrats between now and November?
To get a better handle on that question I asked two of the Florida pollsters to tabulate their results among a crucial subgroup: The self-identified Democrats in their surveys that support Crist. The resulting subgroups of "Crist Democrats" are relatively small -- just 106 interviews on the Ipsos survey and 147 on the Quinnipiac poll, yielding margins of error of +/- 10% and +/- 8% respectively -- but the results are largely consistent. They help explain Crist's current appeal among Democrats, but also why he will have trouble maintaining that support.
For example, the Crist Democrats overwhelmingly approve of Barack Obama's performance as president (79% on the Ipsos survey and 80% on Quinnipiac), but not surprisingly, they are even more approving of Crist as governor (90% on the Ipsos survey and 88% on Quinnipiac).
There are also hopeful signs for Meek: Quinnipiac finds that nearly half of the Crist Democrats (45%) say they haven't heard enough about Meek to rate him, and only 20% report an unfavorable rating. Quinnipiac finds that half of the Crist Democrats are self-described liberals (46%), and Ipsos finds 36% "strongly" identify with the Democratic party. Quinnipiac finds that nearly a quarter (23%) are African American.
So collectively these results suggest that Meek has much room to grow, and that "political gravity" is poised to work in his favor. On the other hand, they also suggest that some Democrats will stick with Crist no matter what. What is Crist's floor of support among Democrats? We will have to wait and see.
One thing is certain: Crist's independent candidacy will make voter decisions more complicated than in other races and, for that reason, potentially far more volatile. Voter preferences could shift, and fast, at any point this fall (including the final week). As such, this is a race worth watching.
**Those who want to go deeper into the wonky weeds should know that Dyk's memo references actual party registration, while poll respondents may sometimes report something different. More specifically, while Mason-Dixon asks explicitly about party registration, Quinnipiac and Ipsos use a more traditional party identification question that asks respondents what they "consider" themselves and PPP asks respondents simply whether they "are" Democrats, Republicans or independents. So the numbers I'm reporting are probably slightly different than what Dyk is using.