This story has been updated
With less than nine weeks remaining until Election Day, control of the U.S. Senate remains in play, as Republicans hold meaningful leads in five states currently held by Democrats, with six more Democratic seats remaining in our "toss-up" category. Since our last update two weeks ago, new polls have nudged our polling averages in a slightly more Republican direction in the more competitive states, particularly Florida, Kentucky, California and Washington.
Remember that to win an absolute majority in the Senate, the Republicans need to gain at least 9 seats (although as several Pollster and HuffPost commenters have pointed out, a gain of 8 seats would leave the Democratic majority dependent on vote of not always reliable Joe Lieberman).
Currently, Republican candidates hold strong double-digit leads in four states now represented by Democrats: North Dakota, Arkansas, Indiana and Delaware. The Delaware margin assumes that Mike Castle wins next week's Republican primary. Democratic hopes there will brighten considerably should Republican Tea Party candidate Christine O'Donnell prevail, as two recent polls show she would trail Democrat Chris Coons.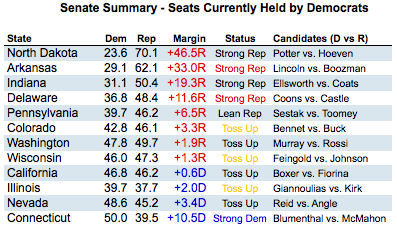 Six seats currently held by Democrats remain in our toss-up category:
Of the seats currently held by Republicans, only Florida remains in our toss-up category, and there our trend estimate shows Republican Marco Rubio with a 3.1 point advantage over Republican-turned-independent Charlie Crist (37.1% to 34.0%) with Democrat Kendrick Meek running a distant third (16.6%)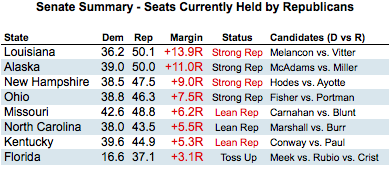 Two week ago, our trend estimate put Kentucky in the toss-up category, but two new recent polls by SurveyUSA and Kentucky cable news channel CN2 put Republican Rand Paul leading Democrat Jack Conway by margins of 15 and 5 points respectively. Our trend estimate now shows Paul leading by 5.3 points (44.9% to 39.6%), enough to shift Kentucky to lean Republican.
All tallied, we currently show 48 seats leaning or currently held by Democrats (including the two independents that caucus with the Democrats), and 45 seats leaning or currently held by Republicans. Thus, control of the U.S. Senate rests on the outcome of the seven contests now now in the toss-up category: Colorado, Washington, California, Wisconsin, Illinois, Nevada and Florida.
UPDATE: The original version of this post misstated the leader on our Illinois Senate trend estimate.