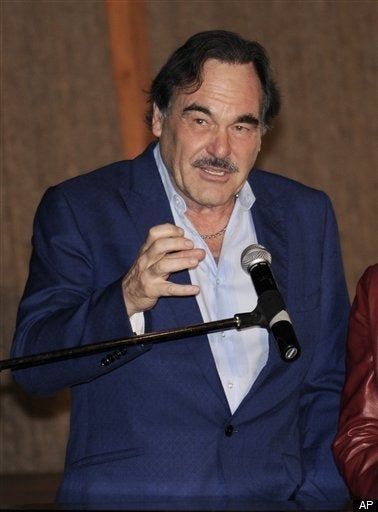 The scene of Sorkin and Stone's lunch was the Four Season's Grill Room in Midtown Manhattan, where they dined next to financial bigwigs like billionaire Steven Schwarzman and former Citigroup chairman Sandy Weil, whom Stone dubbed "the mother of all evil." (Stone's father actually worked as a broker under Weil, Sorkin notes.)
Stone stopped short of demonizing the entire financial sector, but said that "half of the people [in the Grill Room] could be prosecuted." But he added that Gordon Gekko fancied himself (and the world) a "mixed bag" of good and evil motivations. Here's more from Sorkin's column:
"It's silly to be simplifying and say Wall Street is evil," pausing for a moment before stopping to correct himself. "Goldman Sachs is evil, maybe."
In a separate interview with the New York Daily News Stone described the difficulty of dramatizing the complexity of Wall Street's maze of mortgage securities:
Oh yeah, that was impossible. How do you explain a credit default swap? 'Moral hazard' is mentioned in the movie; so are 'CDOs' [collateralized debt obligations]. But you know what? At the end of the day, we don't need to know. You sense it emotionally; you get it from the actors.
Sorkin also sat down with Aaron Task of Yahoo's Tech Ticker to discuss what he sees as a growing distrust of Obama -- and his rhetoric -- among Wall Street execs. Check out the interview below: