Kevin Sbraga won Top Chef: DC Wednesday night, cooking well enough in Season 7's final meal to beat competitors Ed Cotton and Angelo Sosa.
For his Top Chef bounty, Kevin wins a cool $125,000, a feature in Food & Wine magazine, and a showcase at Food & Wine's annual festival in Aspen.
Sbraga watched Wednesday's finale at Osteria in North Philadelphia with his wife (a pastry chef) and two children, the Philadelphia Inquirer reports. The Inquirer also has the first scoop on Sbraga's upcoming plans:
Sbraga will shortly leave the chef's position at Rat's, a French restaurant in Hamilton Township, N.J., managed by Stephen Starr. He has said he wants to open a small restaurant in Philadelphia.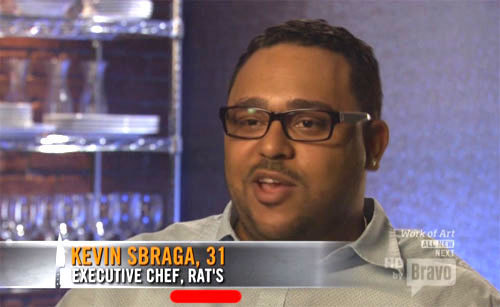 Kevin Sbraga is the 'Top Chef: DC' winner, beating Cotton and Angelo Sosa to win Season 7's finale.
In conjunction with Food & Wine magazine and Bravo, the Singapore Tourism Board hosted a Top Chef finale viewing party at Colicchio's Craft restaurant on Wednesday night. Photos of the attendees, including Padma, Tom, Gail, Ripert, Dana Cowin, and chefs Morimoto, Samuelsson, Conant and more are below. All photos are courtesy of the Singapore Tourism Board.
From BravoTV.com, here's more lowdown on your newest Top Chef, Kevin Sbraga:
AGE: 31

HOMETOWN: Willingboro, NJ - currently resides in Willingboro, NJ
PROFESSION: Executive Chef, Rat's Restaurant at the Grounds for Sculpture
CULINARY EDUCATION: BS, Culinary Arts from Johnson and Wales in Miami, FL
FAVORITE SIMPLE SPRING RECIPE: Asparagus and morels

A self-proclaimed "beast in the kitchen" with unrivaled knife skills, Kevin is currently the Executive Chef at Rat's at the Grounds for Sculpture in Hamilton, NJ, which is managed by Stephen Starr. After earning his BS of Culinary Arts from Johnson and Wales in Miami, Kevin went on to become the Chef de Cuisine at The Grill at Philadelphia's Ritz-Carlton Hotel and was included in the 2007 list of "Top 10 Chefs" by Philadelphia Style magazine. In 2008, Kevin served as the Culinary Director of Garces Restaurant Group and was named winner of Best Meat Presentation at Bocuse d'Or USA. This African American, Italian chef declares he's the "Barack Obama of the cooking game" and wants to prove that "he can."
Some saw Kevin's victory as a surprise and/or upset as it was reasonably rumored that Ed Cotton took the title based on recent sightings of Angelo Sosa and Kevin Sbraga, but not Ed Cotton, filming an upcoming season of Top Chef All Stars. Top Chef All-Stars generally features finalists, but not the seasons' winners. Not anymore, though, it would seem!
In another twist, Eater caught that Bravo accidentally posted a preview video of next week's reunion episode several hours before the finale aired where Top Chef producer Andy Cohen congratulates Kevin (who you can follow on Twitter here) as the winner of Season 7:
For a stroll down memory lane, see the 16 other competitors Kevin beat out over the course of this season's Top Chef: