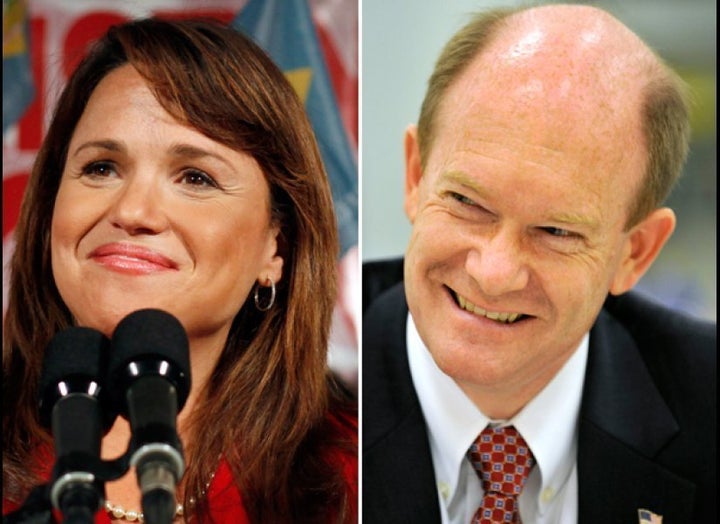 While pollsters released a flurry of new surveys yesterday in the most competitive Senate races, the surprise result in the Delaware Republican primary had a much bigger impact on the GOP's chances of taking control of the Senate this year.
Specifically, Christine O'Donnell's upset of Republican Congressman Mike Castle flips Delaware from a seat that looked comfortably in the Republican column this year, to one that now looks comfortably (if tentatively) Democratic. Four polls conducted since July all showed Castle leading Democrat Chris Coons by double-digit margins, while the most recent Rasmussen poll had Coons leading O'Donnell by 11 (47% to 36%).
Public Policy Polling (PPP) fielded a general election survey in Delaware over the weekend that they plan to release today, though they teased results yesterday that imply an even bigger Coons lead. They reported Coons "polls 26 points better" against O'Donnell than against Castle, that O'Donnell's personal rating is 29% favorable, 50% unfavorable and that only 31% of Delware's voters think she is "fit to hold office."
While we are on the topic, congratulations to PPP for going where all other pollsters feared to tread and producing an accurate forecast of the O'Donnell surprise in Delaware.
As of this hour, the outcome of the New Hampshire Republican primary remains in doubt, with Kelly Ayotte leading Ovide Lamontagne by just under a thousand votes. A victory by Lamontagne would also cheer Democrats, as most polls show Democrat Paul Hodes faring better against Lamontagne than Ayotte. Our current trend estimate based on all public polls shows Hodes trailing Ayotte by 9 points (38.5% to 47.5%), by leading Lamontagne by just over 4 points (41.8% to 37.3%).
Meanwhile, yesterday brought 11 new polls in 7 of the most competitive states. Seven of those survey came from either Rasmussen Reports or from a set of new Fox News tracking polls that -- as I reported yesterday -- use the same field service and essentially the same methodology as the automated Rasmussen polls.
The new surveys included three on the Nevada race between Democratic Senator Harry Reid and Republican challenger Sharon Angle. The two automated polls from Rasmussen/Fox show the race slightly closer (a tie and one point Angle edge) than the live-interviewer survey from Ipsos (which puts Reid up by two). Our trend estimate now shows Reid leading Angle by about a point and a half (46.9% to 45.5%).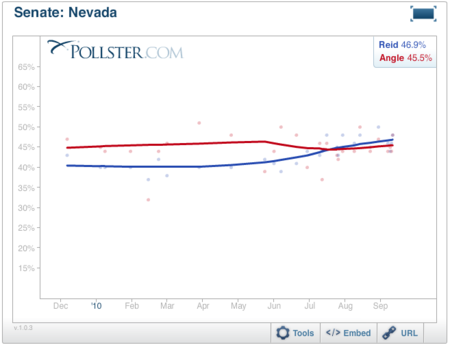 We also saw three new polls in Ohio -- all automated -- from Rasmussen, Fox and SurveyUSA. All three show Republican Rob Portman leading Democrat Lee Fisher by a comfortable margin. Our [trend estimate](http://www.pollster.com/polls/oh/-10-oh-sen-ge-pvf.php) puts Portman ahead by eight points (47.4% to 39.4%) and gaining support since the summer.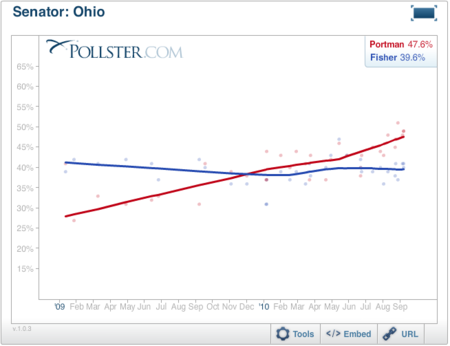 Finally, the new Fox News survey in Florida is the second since the primary to show Republican Marco Rubio hitting a new high of 43% and Republican-turned-independent Charlie Crist below 30%. Rubio's lead over Crist on our trend estimate is now nine points (40.1% to 31.1%) with Democrat Kendrick Meek still trailing (19.1%).